Journal Entry:
Mon Dec 29, 2008, 1:25 PM
um, hi
does anyone know the name of this song.
I know it is around 1999-2000 if I am not wrong.
There are two couples making out on the train track at the end.
The theme centers around love and they wear coats because it is winter, but there are no slow
the cinematography starts twirling around them as they kiss, both girl and boy is attractive like models.
yea =[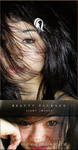 Huge thanks to

and

for asking me to contribute to dA stock account

.
Im very flattered and really happy to help out dAs community. I hope I can help somehow. vectors and illustrations would be awesome. think outside the box artist and have fun

Some of you wondered what I study in Uni. I major in advertising and a minor in business management. I live in Toronto
Reading: HP
Drinking: water

Watch