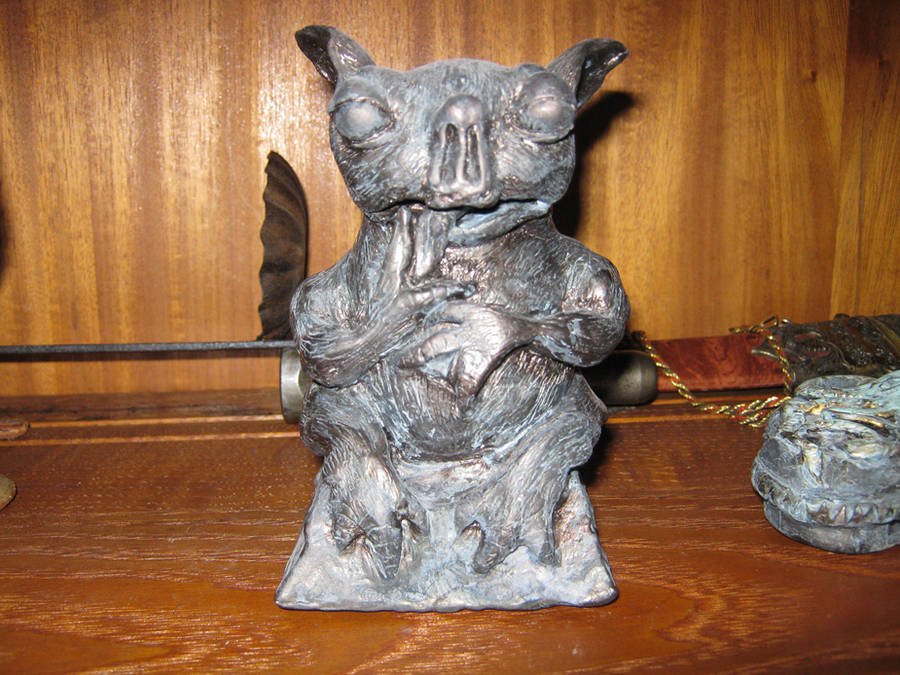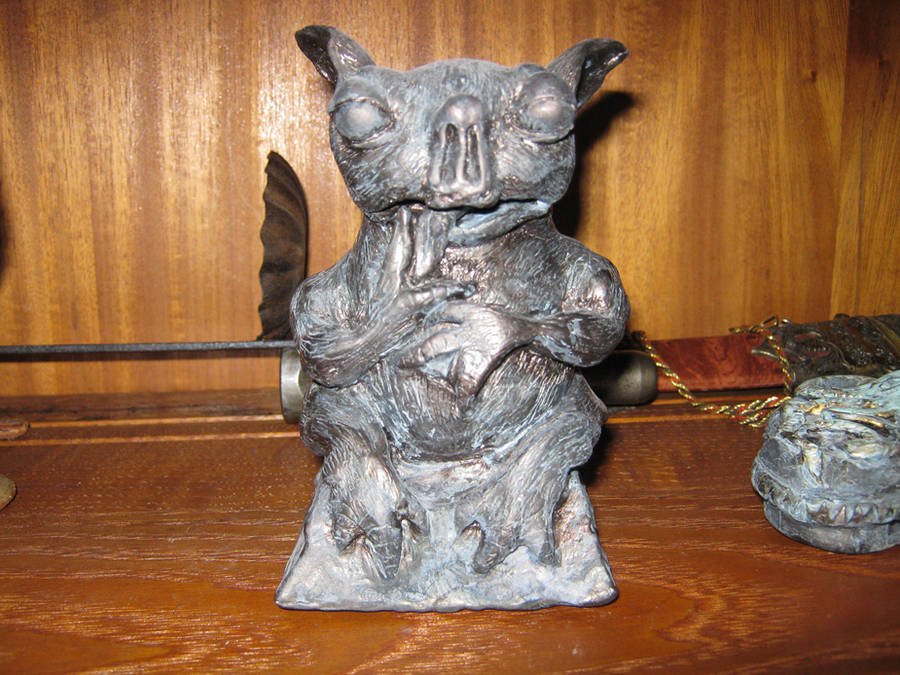 Watch
Dread Tsathoggua!

Aint he cute? From the Writings of Clark Ashton Smith and H.P. Lovecraft.

I wanted a Tsathoggua, so I made one and finnished it in blackened bronze, the photo flash kinda hides it.

My goal was to make it believably rustic and primitive, not modern and realistic and to have no gaps so as to appear carved rather than molded. (it's air dried clay). He is heavy and sorta cute...

Reply

Tsathoggua!? He's such a jerk!
...well in Arkham Horror anyhow

Reply

Hey he's like the least likely Mythos god to eat anyone.... it's just too much effort to him.

Trustworthy?, no, reliable?, hell no, lazy?, yup!

He's like an infernal roommate that eats your chips, drinks your pop and never gets off the couch asking you to order a pizza...gee I guess Tsathoggua is a jerk... Hehe but he makes a cute little idol.

In that secret cave in the bowels of Voormithadreth . . . abides from eldermost eons the god Tsathoggua. You shall know Tsathoggua by his great girth and his batlike furriness and the look of a sleepy black toad which he has eternally. He will rise not from his place, even in the ravening of hunger, but will wait in divine slothfulness for the sacrifice.
?Clark Ashton Smith, "The Seven Geases"
Reply

lol. I had a dream relating to that once. I was stuck in a town that was worshiping Shub-Nieggurath, after lots of weirdness, they tried to mob me and I was fighting them off with my back against a wall. Then their chief told me "we can assure you, we will not harm you in any way" and I had to reply "But you would offer me to those who would!" After all, there would be a thousand hungry mouths to feed

Reply

Lovecraft used dreams to inspire his works, as should you use that.

We are all ingaging in a bit of Yog-Sothothery here and using dreams is the way Lovecraft would do it.
Reply

lol. Cheers man, indeed I do, do that! I am writing a storywith some Lovecraftian themes (Though I'm very ammature when it comed to writing

)
Reply