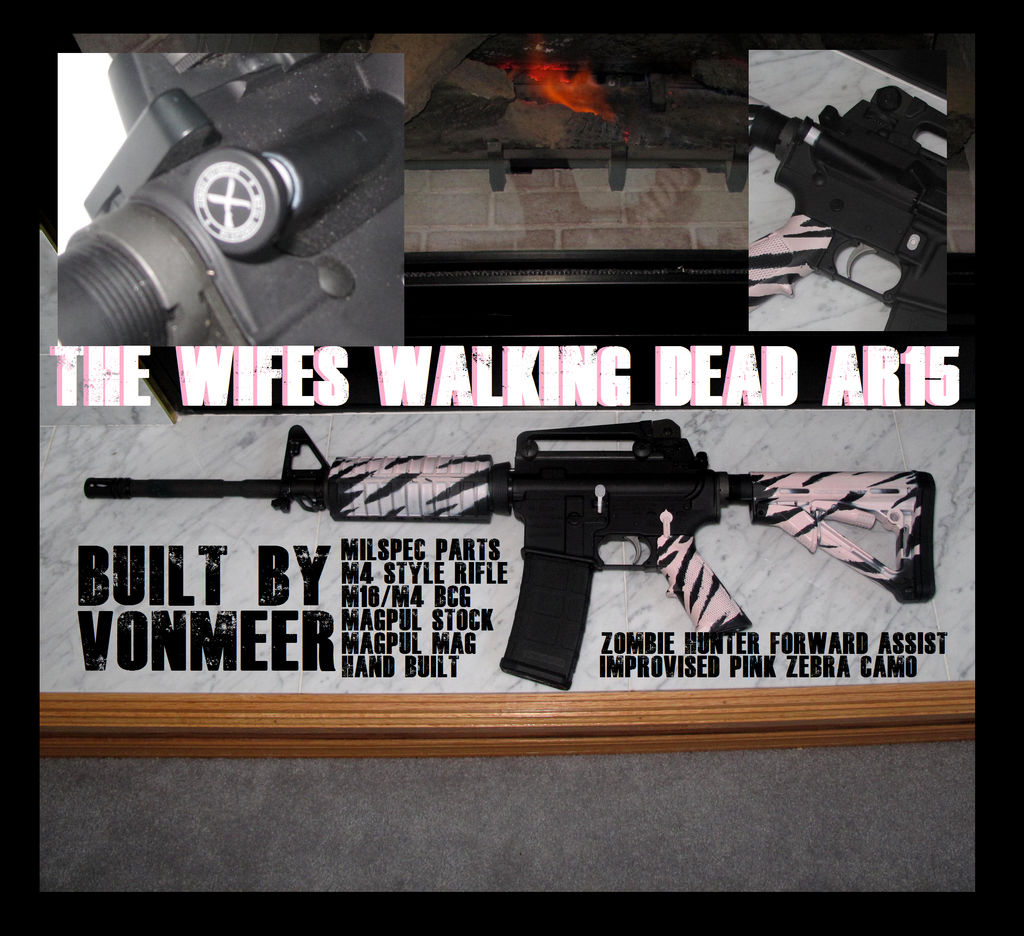 My wifes favorite show is AMCs THE WALKING DEAD. She has Michonnes sword, and every action figure they make for the show. She keeps them in their original packaging in her office. She has stuffed walkers, zombie t-shirts, signed autographs and memorabilia for the show and every DVD set. She even has their board and card games. LOL to all the guys whose wives watch chick-flicks.

Yes my wife loves guns, and likes zombie movies and tv shows more than me... So when she wanted me to build her a rifle, I knew it was gonna be a zombie one...and it was gonna be pink. This is what I built her.

THE WIFES WALKING DEAD GUN
As close to a M4 rifle you can legally get under $500. It's a completely legal, semi-automatic AR15 rifle built from MilSpec parts. Even the BCG is milspec, and I did it under 1/2K.

It's got a 30 round mag, (We have 40, 90 round , and 1oo round drums also) a bayonet lug and an enhanced forward assist. Everything is pretty stock, with some magpul furniture (stock) and a can of pink spray paint to do the camo and break up the body form. She uses the rifle, and the pink camo actually works. It's for my wife and she wanted pink.... Happy wife, happy life...

So this is not legal in police states like New York and California....

I built this before last Christmas, it was her gift. It was a cute little gift, as she likes when I make her things. So since I built it, and customized it I feel it's ok to put up on my dA page.

Don't expect to see me build any more pink guns though......