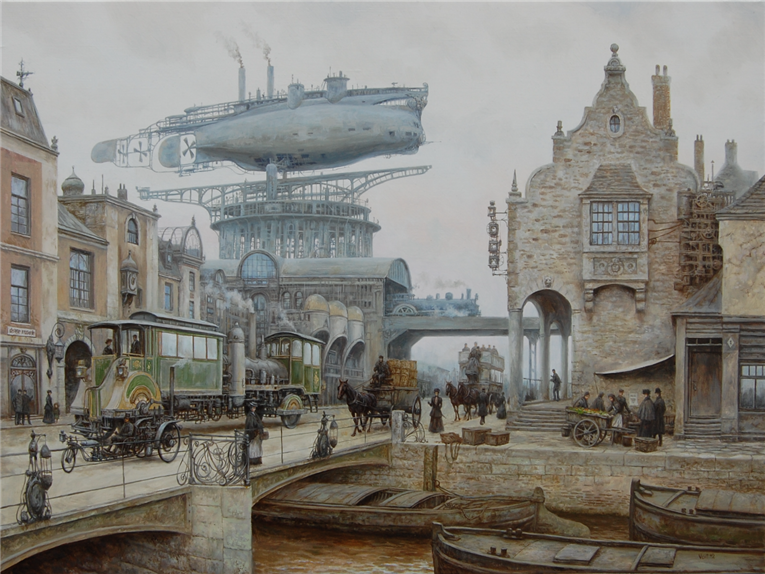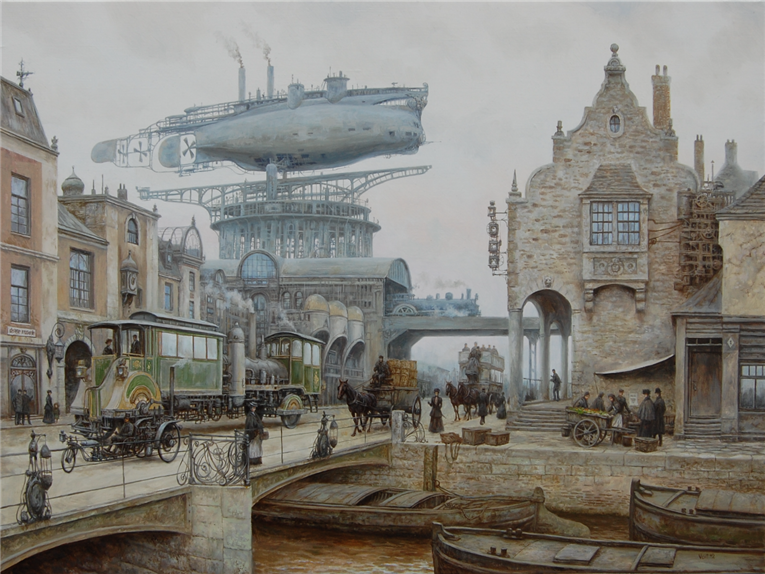 Watch
So, for the critique. One from a side watcher, not a specialist in painting in any way. And - only because it was requested.

First of all - as with all your paintings, a wonderful mix of ages. This contrast between weathered streets and building, on one hand, and fantastic technologies, ingrained in these remains of the old world - create a terrible feeling of the edge of times. Such a thin balance, a precautious lean of the world on the brink of changes and commotions, but a time of possibilities unreachable before too.
By the way, I seem to find a distinct color division between new world - light blue and the old one - rusty yellow. Or am I imagining it?

Secondly, I notice one more tradition of your art - all people in view seem to be... alone. Even those groupped together and engaged in some interaction, seem to have only met and soon to part, and only together for some business, sharing no part of each other. This only adds to the impact, creating a sense of loneliness spreading out of the canvas on the watcher. Such a sweet and painful loneliness, bringing up memories of one's own past.

Lastly, and also as always, you put a heavy accent on fantastic vehicles, mostly aerial. It serves not only to emphasise the fleetiness of the moment - ready to throw down the walks and set sail to other place somewhere, but to make the watcher wonder, what IS there, behind the buildind-obstructed horison - is'nt it a treat of our time too, inherited from that fragile age?

On the painting skills of yours I will not comment - since I, to be honest, know nothing about the trade.

I simply enjoy each next piece of yours.
The Artist thought this was FAIR
75 out of 77 deviants thought this was fair.