I remember it can be quite tough to gain recognition on DeviantArt when you first start out. It's a massive website with so many features and ways to interact! When I started out, I was lucky to have a friend of mine giving me a little shoutout in their journal, which gained me my first couple of watchers. I'll do the same in this journal for some new Deviants I found that have really cool galleries, and I thought of giving a couple of tips as well on gaining recognition:
~ TIPS ~
Loads of interaction! DeviantArt is considered a social media website as well as an art site, and offers many more tools for interaction, feedback, and commenting than Twitter/Instagram/Tumblr ever will! Use it wisely If you want to receive comments, and have people view your art, you have to put some effort in yourself as well. Comment on other people's artwork, +fav it, +watch those you really like, keep communicating. Try interacting with other new artists and grow together!


Make good use of the "artist's comment". With that I mean the text you can add underneath your artworks. You can add icons, links, thumbnails to other deviations, you can add anything that makes it easier for people viewing your artwork to find other, relevant artworks!
For example, in my artwork description I add links to my other social media accounts, as well as include thumbnails of other artworks of mine: [SU] Show of the Stars - Lars and Sadie
And another example, if you're writing a story, it's handy to provide links to your gallery folders where people can easily find more art and chapters of that story: killing graphite pencils - Orion
Or add "next page" links when you're uploading comic pages! MtRC - Chapter01 PG01

You can insert a link by typing < a href="Here goes your URL address">Here goes the text you want to appear</ a> (remove the spaces before the two A's) in your artist comment.
For example, when I type < a href="www.deviantart.com/vixenkiba">My Profile Page</ a> (but remove the spaces before the A's) I'll get: My Profile Page


Use your profile page well! When you go to "edit page" in the upper right corner of your profile page, you can add and remove whichever widgets you like. Since you probably want to show off your art, make sure that your art is the first thing people see when they go to your page! You can even install widgets that show only a specific group within your gallery. For example, I have one of my widgets set on my "resources" gallery folder, as it contains resources that might be handy for you guys to use

Here's some examples of profile pages that I find looking really good:
megatruh
NukeRooster
hen-tie
These profile pages look organised, and in one glance show you the art style of the artist, as well as links to their other social media accounts, F.A.Q.s, commission pages, etc.


Make use of Groups! In the top, underneath "more", you can click on Groups. Here, you'll find literally thousands of groups that all specify in different things. Join a couple of big (and smaller specialised) groups, and submit your art to all of them; it will definitely give you far more exposure!


Join specific feedback groups. There's a couple of amazing groups out there in particular that are good for getting a wider audience and receiving more feedback.
ProjectComment provides a comment-for-comment system, that guarantees feedback on your art as long as you give it to others.
GetWatchers used to have its own app that allowed you to find other deviants, and them finding you, but that app is currently down. Instead, they currently provide a discord!


Make good use of #hashtags. You can add hashtags to your artwork; add those that are relevant to your art. You can add tags for characters, scenery elements, emotions, etc. Basically, put yourself in the mind of someone searching for art; what would you type in the searchbar to find an artwork like yours?
I hope these tips will help a little bit for some beginners! They all helped me. There's no real trick to getting recognition on DeviantArt though, it's simply just a lot of work on your part. Try it out, and see what works best for you!
And last but not least, here's some super new artists that have great galleries!
Feel free to check them out!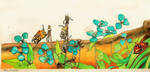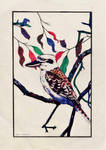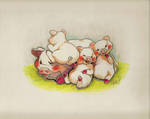 Moss-Portland --> Amazing traditional artist who makes illustrations that would do super well in story books!



KVLT-PROSVET --> Amazing artist who works only with black, red, and white. Symbolistic and full of detail!



willisrharrower --> Makes the most detailed traditional art I've ever seen, amazing graphite skills!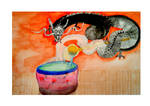 Bertairreverente --> Makes the most amazing story book illustrations!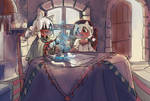 19VodNiK --> This cool artist makes the most amazing cartooney illustrations!



Lichtgeborener --> I absolutely love this artist's creative sceneries and amazing worldbuilding!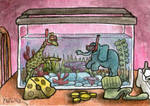 Noodlerabbit88 --> This artist's colourful traditional artworks are worthy of an illustrated kid's book <3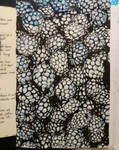 Jane-Vu-Art --> This traditional artist has some of the most detailed artworks I've seen in a while!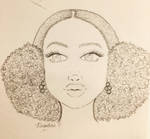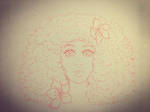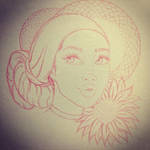 Damitaza --> I just love the beautiful portraits this artist creates <3 Curly hair!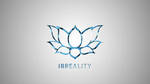 Pur3e --> I really adore the logo designs this artist does!



shadow-rin --> I'm getting the best fantasy-vibes from looking at this artist's gallery!



Feel free to give these amazing artists a look/comment/fav/watch! They're all new, and I'm pretty sure they would really appreciate it



Cheers!
Vixenkiba
#how
#to
#become
#popular
#gain
#recognition
#views
#pageviews
#get
#receive
#more
#famous
#favs
#favourites
#be
#watchers
#followers
#tutorial
#tips
#tricks