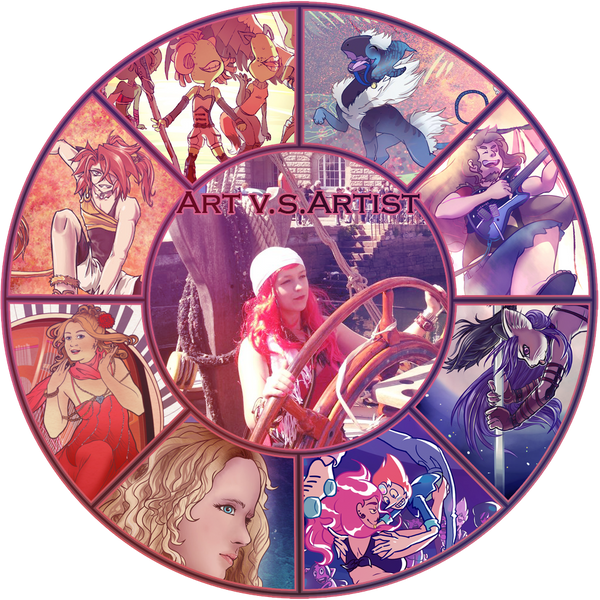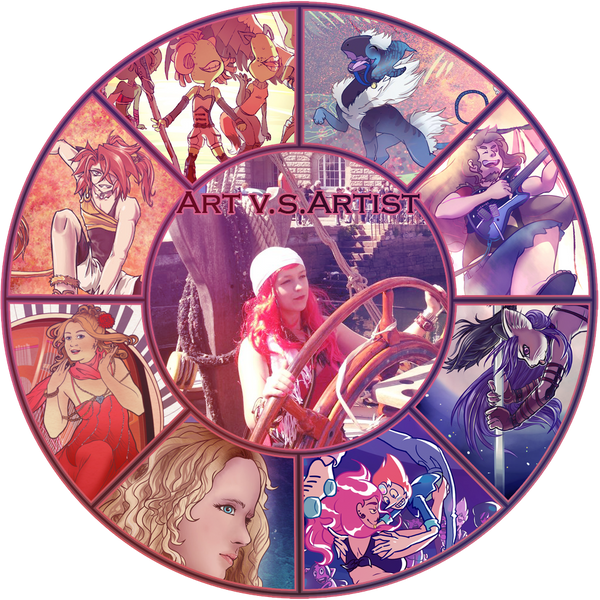 Watch
---
Figured I would use the Art VS Artist Meme as a temporary "DeviantID" whilst I'm working on an updated one! Also, I think this is the first time I'm showing a photo of myself here, but since I'm not yet TOO comfortable sharing photos around the place I chose a photo where I'm dressed up as a pirate with a red wig on my head xD My hair is not really red (though I do love it, haha!).

I saw some others doing a circular, wheel-shaped art vs artist meme, so I made my own and decided to offer the template for it

INSTRUCTIONS
1. Download the files in my Stash here: sta.sh/223kimalg7nl?edit=1 <-- It contains two PNG files (with/without text) and the original Photoshop (.psd) file.
2. If you use the Photoshop file, you can edit the lineart and text to have fancy borders (like how it has red borders on mine) by giving those layers a "Stroke" effect. Try it out!
3. To cleanly insert art into each space, first copy an artwork into the file. Move the artwork layer underneath the lineart, and position it in such a way that you're happy with what's showing in the space. Then, select the lineart layer, click with the magic wand/selection tool inside the desired space, invert the selection, click on the artwork layer (while the inverted space selection is still on), and press Delete. Now your artwork should show up neatly into the space! Repeat for the other spaces! ... I understand my text explanation might be difficult to follow, so please let me know if you need a quick screenshot tutorial for this.
4. Link back here if you use the template, if you want! That way others can find it as well





Artwork © Vixenkiba, please do not use or reproduce without my permission.