*unless I notice you break DA's ToS
---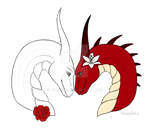 I'm in
Draffection
with my white Dragon:



(11.11.11)


Would you like to
draw us
together?


:





Art BY me


Fanart FOR us






:thumb702748236:
And thank you all for all favourites and comments. And Llamas too

Please, don't thank me for any of those things

I usually don't write "
Thank you
" not to spam anyone, so please don't take offence if I don't do it to you. I answer for explicit questions if there are some and only BTW thank.



And I appreciate everything very much

And even if I don't send any signs, I feel grateful!



FA account shared with
TomsShape