Description
This is my favourite picture of this look!
And you know what? Butterflies are starting to grow on me. 🤔🤪 Up until now I have NOT been a fan of butterflies. A butterfly traumatised me when I was a kid, I am CONVINCED it was trying to eat me.



This took me longer than anything I've ever done. I was painting for 12 hours and 20 minutes all together. (That's not including breaks to eat.)



Products used:
@graftobianmakeup
ProPaint: Swan white, blood red, crimson red, sunset orange, buttercup yellow, alien green, forest green, Catalina blue, tropical teal, wild violet.
@wolfefaceartfx
010 black.
@nyxcosmetics
Swear by it eyeshadow palette, Ultimate palette.
Laroc_cosmetics
120 summer eyeshadow tones.


I used the PicsArt app on my phone to edit the butterfly in my hand.


Yes, this is all bodypaint! No, I'm not naked, I'm wearing full coverage pasties that are painted over.
















I do all my face and bodypaintings live on Twitch. FOLLOWING is free on twitch! Subscribing is appreciated, but not required on Twitch and will get you AD FREE viewing as well as my emotes that I drew myself! You can also SUB for FREE on Twitch if you link Amazon Prime to Twitch! Yes, you still get the perks. Yes, it still helps the streamer.
All you need to do to follow is hit the little heart in the top right corner. www.twitch.tv/vitani4000
Once you've hit the heart you will get notifications whenever I go live and you'll become a part of my Veehive.
Facebook:
www.facebook.com/Vitanis-weird…
Please go check out my gallery if you like this


Here's more of this look: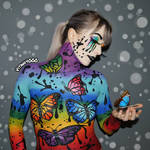 Image details
Image size
2383x2199px 638.23 KB
Shutter Speed
80/10000 second
Date Taken
Feb 26, 2020, 4:56:47 PM