Recently completed cards: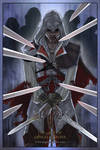 :thumb178894961: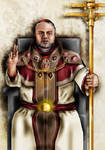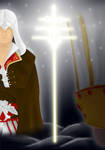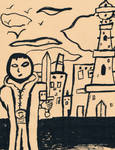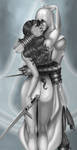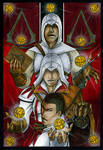 :thumb174475266: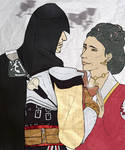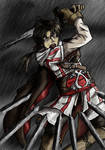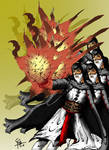 See
all
of the completed cards and their accompanying stories here:
visionaryassassins.deviantart.…

Here are the latest artist and writer assignments (Last Updated Jan. 5th). Yellow highlight indicates that card is complete and in the Project gallery
visionaryassassins.deviantart.…
If you signed up for a card and it is not listed, please let us know asap! If you've already done a card or two and would like another, take a peek at the chart below and feel free to snag another.



All remaining cards will be distributed on a first come, first served basis.
Please send a note (don't reply here) with your desired card. Writers, indicate which participating artist you'd like to partner with. Please note that the project is open to Guild members only, but you're welcome to join any time.

Tarot Card Meanings Reference:
www.paranormality.com/tarot_me…
The above link contains information on every card in the deck, including traditional interpretations of the card which should provide some inspiration when you're designing your card. Wiki has tons of info on the Tarot, too. In the Tarot
every
card has a meaning, so there's something for everyone. For more information on the Major Arcana:
en.wikipedia.org/wiki/Major_Ar…
and the Minor Arcana/Suit cards:
en.wikipedia.org/wiki/Minor_Ar…
For our purposes, and based on your feedback, the suits will be as follows: cups, apples (instead of coins, can be depicted as either fruit or Piece of Eden), swords and staffs (instead of wands).
Since this is a deck, we need to keep the size of the cards consistent. The final dimensions of the card images will be 5" x 3.5" or 12.7cm x 8.9cm, vertically aligned. Artists will need to keep those parameters in mind. Your image can be larger, but must scale down without degradation or we won't be able to use it.

Templates for Card Borders:
Major Arcana & Face Cards
and
Minor Arcana
These are for reference only - we'll be adding them and titles/numbers ourselves.



Writers!



We need more of you! Given the overall visual nature of the project, it's been tricky to find a way to bring our awesome writers into the process. Some of the artists want to work alone in the creation process and that's understandable. We do have several who have said they would like to share ideas and such with writers, so that is essentially what you are signing up for. Ultimately, the artist has the final say, though, just as you would want to have in one of your works.

If you're interested in a card that an artist has agreed to work with a writer for, then send us a note stating you would like to work with that particular artist. If you would like to wait until a card is finished and posted in our gallery and THEN write about it, that's fine too. Any card that shows up in the Tarot gallery folder is open to you.

These participating artists have said they would be open to working with a writer:
ShadowcatKirara xfiripax Wela-Inomae
Caifox324 Pirate-Assassin

Snaphance93


DemonHunterJoan dracona-fin YoiZanshin


MichellesPenScratchz
This is a LARGE project, lol, so to keep us all sane there will be some procedures to follow. So here we go, the lowdown:

For the sake of fairness and letting as many members as possible participate, we are going to limit members to two cards. This limit may be lifted as we near the deadline.
This is for fun and all levels of artistic talent are welcome but we do want it to be high quality, so please, no quick sketches, raw lines, doodles or parody.
Traditional art is welcome, as is digital, of course.
If you need someone to color for you, let us know and we'll put out the call. Likewise, if you want to color, let us know.
Normal Guild rules apply: no OCs or couples outside of canon pairings.
No game art. All submissions should be drawn/painted/etc by you. The exception would be the use of the Assassin symbol or Templar cross in the piece.



Deadline




Update! The deadline has been extended to Jan. 30th in hopes of getting this project complete
. After that, outstanding cards will be available for others (both inside and outside the Guild) to take over on a first come, first served basis. If something happens and you no longer can or want to participate,
please
note us so we can reassign your card. We understand that things happen, we just would like to be able to complete the project.
When you're done with your submission, please upload it to the "Assassin's Creed Tarot Project" gallery folder.
Because of copyright issues, we won't be able to have them professionally printed, but eventually all of the cards will be compiled into an easy, downloadable form. There is a place where one can purchase blank, coated tarot cards here:
www.plaincards.com/Tarot.html
I imagine the same effect could be achieved with heavy card stock and protective coating at home, though.
Any questions? Suggestions? Drop us a comment below.

Safety & Peace,
The Guild Masters