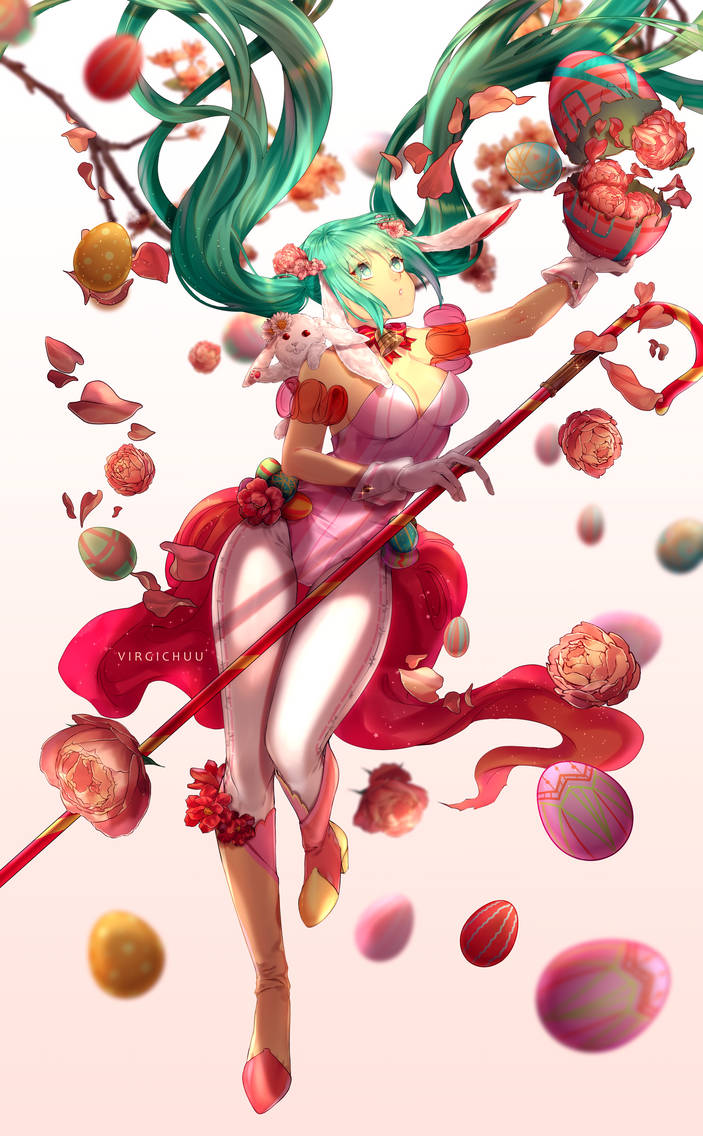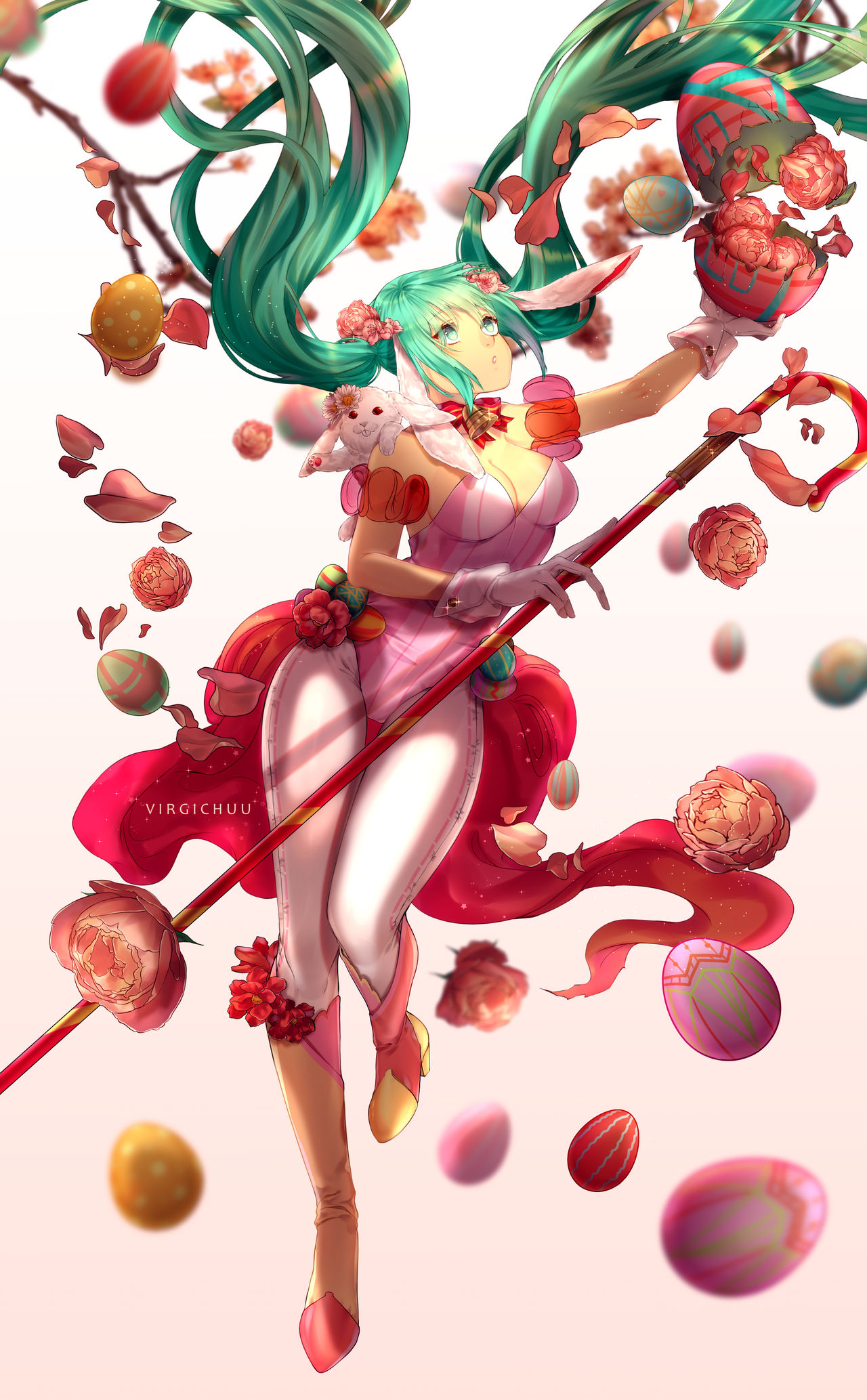 Watch
Hey hey!~ It has been a while since I last made a full illustration (honestly it broke my back lmaoo) Actually, the thing that's slowing me down the most is my akuzoaruer-ing tablet yep. My tablet is a freaking disaster so I have to spend my time pluging in and out or rebooting my laptop ugh--
Soo about this piece, it's nothing new actually and pretty much a redraw of two 2013-2014 pieces featuring Miku and an easter design I made up so I revamped everything! I had a LOT of fun with this and hope you'll like it!
_____________________________________________________
[Hatsune Miku] © Crypton Future Media
[Outfit Design] © Virgichuu
[Art] © Virgichuu
Other Artworks:
-
Currently Open:
-
M y G a l l e r y
||
CS: V a s i e a q l
||
T u m b l r
||
T w i t t e r
||
T o y h o u s e
||
I n s t a g r a m
||
A s k b l o g
COMMISSIONS INFO

Woah so beautiful, I love this color palette too! That pose, the cuteness, flowers, eggs and bunny! So well done!!
Reply

C'est beaucoup trop sublime ;_; ces couleurs, je suis absolument fan
Et son visage aussi
BREF
je suis super fan //roule
Reply

it looks super cute

Reply

Reply

AAAAAAaa mais waw ! j'ai limpression d'être une pushover a tout le temps commenter mais je je je j'ai pas les mots la x'D
C'est vraiment magnifique comment tu as geré la composition globale, la lumiere sur le visage de miku, tous ces petits details et les effets de flou et de net qui donne vraiment de la profondeur
le flow de ses cheveux, sa position, ses habits, les oeufs et fleurs tous si detaillés aah c'est vraiment un travail de fou qui fais briller les yeux quand on le regarde, et c'est une émotion si reveuse et douce
on voit vraiment que tu as le sens du details quand on voit tes illus toutes detaillées, tu as vraiment du y passer du temps et ça vaut le coup ♥ continue de dessiner comme caaaa

Reply

MDRR HAHREN JE???? MERCI BEAUCOUP WOW
Et c'est pas pushover du tout hey! Ca me fais super plaisir que tu prennes le temps de commenter //o\\
Je suis vraiment ravie que tu penses tout ça aoizeoazruir merci beaucoup pour tout ces gentils mots <3
Toi aussi continue dans ta lancé parce que je vois tout aussi bien tes progrès fulgurants!
Merci encore <333
Reply

wahhhhh all the details are so pretty!! J'adore les couleurs aussi aaAA
Reply

qiroezrier thank you so much???? Aaaah heureuse que ça te plaise mdrr j'adore colo' ce genre d'atmosphère lmao
Reply

Heck, your anatomy keeps getting better and better and I am here struggling for my life. xP
How do you get so good so fast? Tell me your secrets, oh wise one.

Reply

Awwww thank you so much ///// I'm glad to know you like it!
Honestly I don't have any secrets lmaoo--I draw a lot and take long breaks too!
Also I try to spend a bit more time on the sketch while also being relaxed so as not to mess it up uwu
Reply