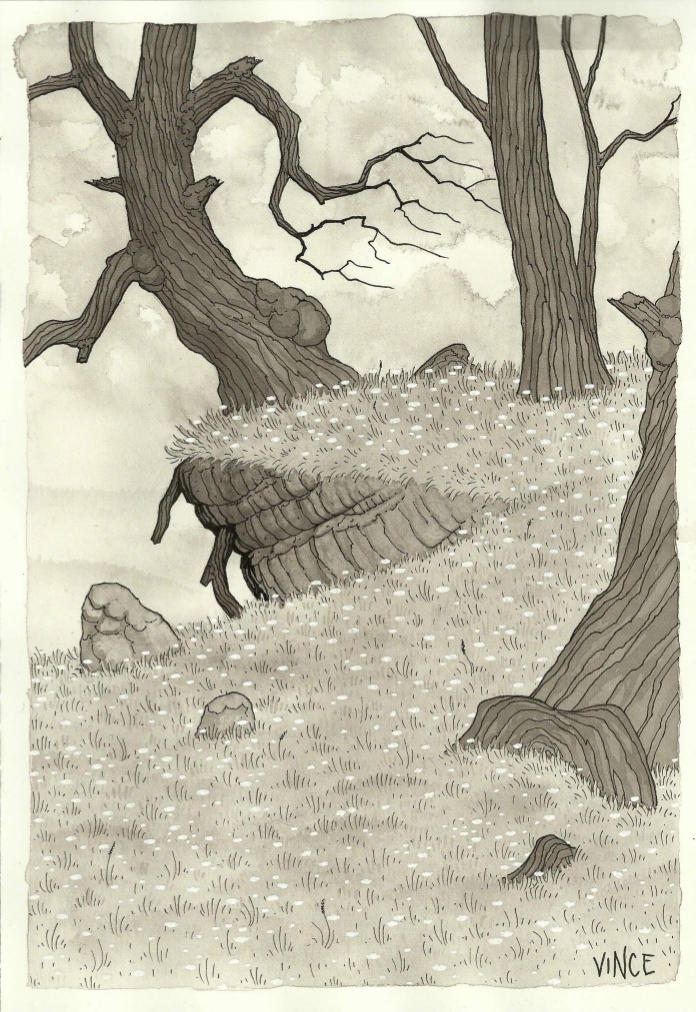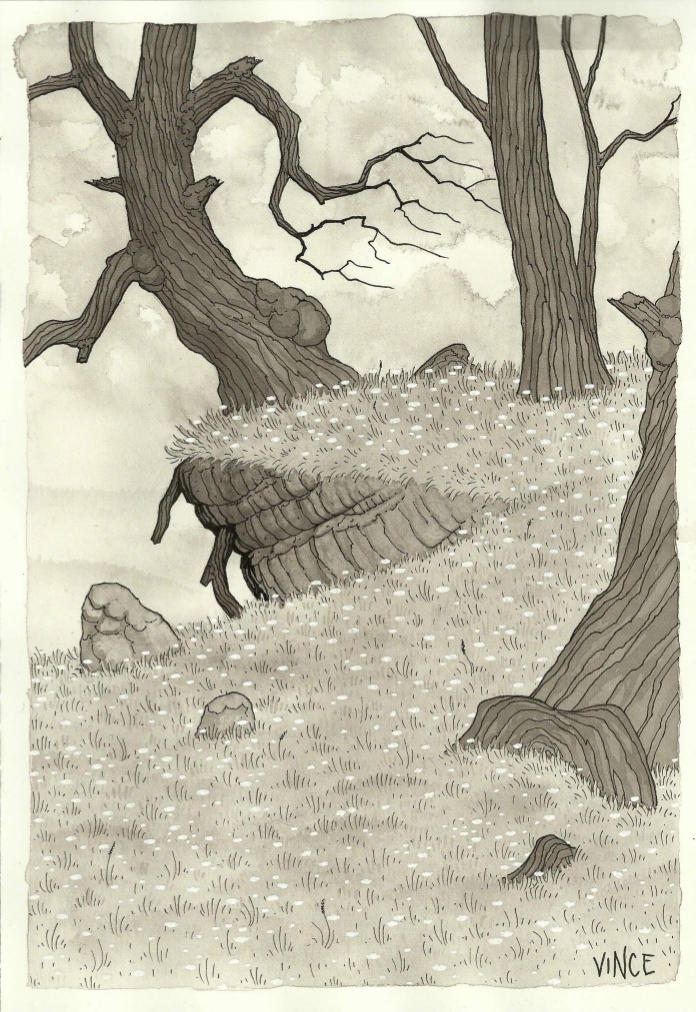 Watch
ink wash and pens + white gel pen on arches hot pressed block, snowdrops are a winter flower, the growth habit of these doesn't really look like snowdrop but when you draw out of your brain artistic liberties will happen, hope y'all like

How did you make the subtle changes in the grass? When i use ink washes i usually get lines at the edges of the wash. I love the shading on the cliff under the tree.
Reply

thanks! when i do large areas i do a wash with just water first, if everything is already wet it's easier to avoid leaving lines when you go in with the ink, and i used a pretty thin wash, there's probably at least 20 layers just slowly building up texture and variation especially on the grass, after the ink is set it aint coming out so it's always better to work light and have to redo it than to work heavy and ruin it. you can get pretty good shading by wetting the whole area, dropping your wash along the edge you want to shade, and then going in with a paper towel to pull out the excess moisture, you may have to do a couple layers to get it how you want but with wet mediums it's always a patience game

Reply

And here i was hoping you'd have some easy shortcut way of doing it. I had a feeling thats how you get those nice tones in your pictures. Im guessing the same technique would work for watercolors as well?
Reply

yeah, it's the same concept, although you don't necessarily have to do the water wash for shading, especially with watercolor ,it doesn't set as hard as ink, but you've got to be moving fast drying and smudging with your papertowel if you're working dry.
Reply

Wow, lovely use of the medium!!!!!! Is this an illustration for something? Looks like it should be in a book!

Reply

Thank you very much, it's actually a Christmas present for my mom, I'm pretty happy with it too, I've only been using washes and watercolor for about a year, it's interesting changing mediums, kind of like resetting your brain

Reply

* ¡Fantástico trabajo! Lo hemos destacado dentro de la carpeta "Featured nº 4 o Destacados nº 4" en Special-Groups. (Es la carpeta donde se exhiben los mejores trabajos del grupo).
¡Por favor, queremos ver más trabajos tuyos en el grupo!





* Fantastic work! Featured in Special-Groups in folder Featured nº 4. (Best works of the group).
Please, We want to see more works in the group of you!



Reply

I like the dynamic of the angular branches and the soft flowers. The ragged border is super, it adds such character

Reply