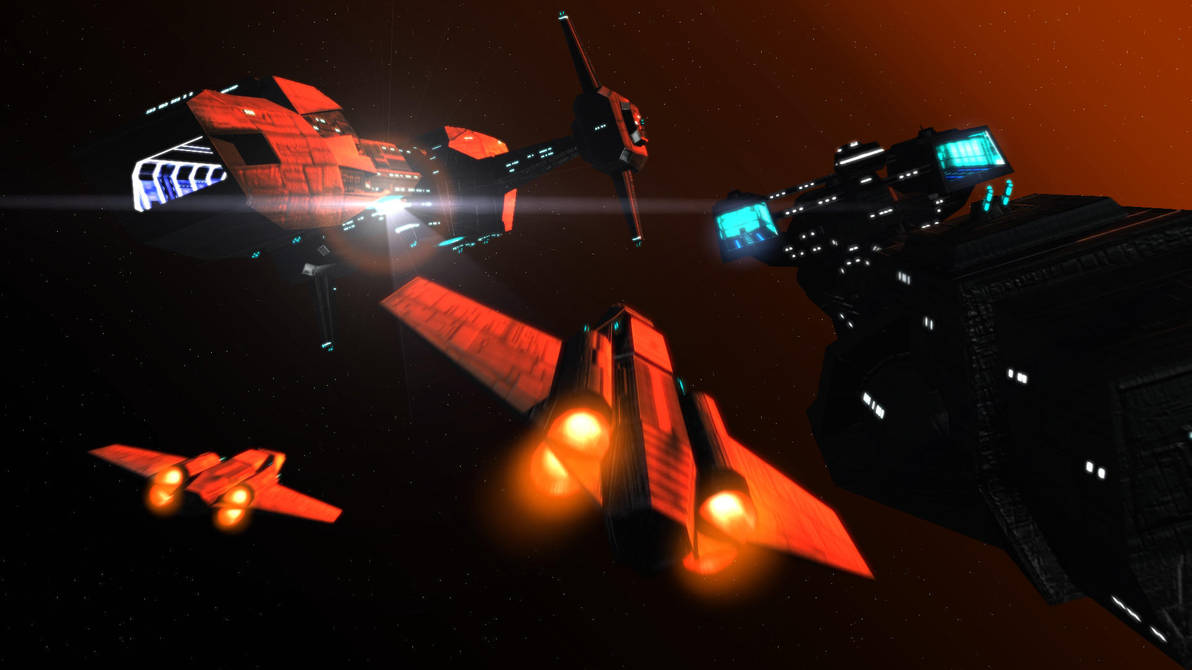 Alright, since I've been doing quite a lot of pictures featuring mainly huge ships lately I thought to tone down things a bit and go for a less pompous approach.

This is a scene from rather early from within the TBP storyline, a pair of Vipers from Phoenix Squadron on rendezvous with their flagship, Briceran Raptor-class Frigate "Overlord" (left) and its escorting Patriot Frigate "Protector" (right) during the Briceran-Torlacian border conflict near the planet Hedrec.

Reply

nicely done, but theres one thing thats bugging me. the frigate on the left, the hangar proportions just does not fit....we can c a big part of the inside of the hangar (i assume its the landing deck) and it just does not make sense, because there wouldnt be enough space for fighters (refueling depots, parts, some cargo, equipment) to stay...its even too short for landing...i am judging from the portion of the hangar uncovered and the first GROUP (not the very first one, but groups on the body of the ship) of '' window lights''...my opinion is that the proportions does not fit.
Reply

Thank you for the comment! I see your concern but allow me to explain. This might be an optical illusion.
The Raptor-class is about 600m long, and the hangar deck makes up about a sixth of its length, so that's about 100m long and about 60m wide. I also picture landing ships not coming in at full throttle so the length shouldn't be much of a problem.
As a comparison, the Patriot on the right, is about half the Raptor's size. Its hangar pods can only hold up to two fighters each, while the Raptor's is large enough to hold about half a squadron. The Raptor is not a carrior, therfore what fighters it carries are only for superiority in addition to its own heavy weapons.
Honestly speaking, the Raptor was in fact one of the earliest models I made. Looking at how my ships developed since then I probably wouldn't make such designs anymore, as its almost skeletal shape with a large forward facing hangar does pose quite some tactical risks.

Reply