Maverick persona: Gravity Antonion from Mega Man X 8
Grineer name:
Alan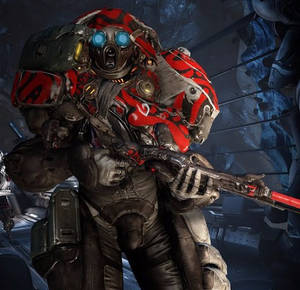 AKA: Alan Brandon
Old quote:
There's a fine line between peace and insanity
New quote
I've tasted Kuva myself. Who knew immortality tasted sssooo delicious!

Old Weapon: Squeeze Bomb
New weapons:
Old other weapons: A bunch of large, metallic block-like objects stored in subspace, a pistol also stored in subspace, and really anything he can pick up and throw at enemies. Those pincers also come in handy in melee combat...
Gender: Male
Hair: Brown
Eyes: Grey Blue
Old height: 5' 10"
New height: 6' 00''
Old likes:
Video Games

<s>Slamming his head against the wall in frustration</s>

Robots

Ladies

Shooting stuff

New likes:
Video games
Robots
Shooting stuff
Youtube
Manga and anime

(Read this carefully)

Transformers
Five Nights at Freddy's
Undertale
Bendy and the Ink Machine
Old dislikes:
Wasps

Syringes

Negative comments.

Old favourite MM game: Mega Man X 8
New favourite MM game: Mega Man 9
Old favourite non-MM games
Little-BIG-Planet

Power Rangers Super Legends

Soul Calibur IV

Overlord II

New favourite non-MM games
Warframe
Star Wars Battlefront
Skylanders
Old favourite shows
Power Rangers series

Transformers Animated

BBC News

Mongrels

New favourite shows
Power Rangers Ninja Steel
Budgie the Little Helicopter