I've always wanted a custom pony plushie!

Finally! U.U

impresses yet again with a lovely life size Vinyl Scratch, one of the iconic ponies from the classical seasons. We decided on no accessories which meant no glasses. This Vinyl measures 45 inches hoof to hoof but she looks and feels much bigger than the 44 inch Apple Bloom Lanacraft made. This could be in part to Vinyl's bigger, more complicated mane and also a new head pattern which employs a gusset. I don't know which head I like better. Both heads look good to me. The older head pattern had a certain charm to it but this new head is closer to being show accurate and is quite lovely. My new Vinyl Scratch is quite cuddly and she makes a wonderful sleeping companion. She is also very durable. I have no fear of any seams breaking or tears happening when sleeping with this plushie. I love how Lanacraft made her horn and her applique bedroom eyes. Her mane came out beautifully and I love the individual sewn and stuffed pieces that compose her mane.
Apple Bloom and Diamond Tiara have the older head pattern. Diamond Tiara is her older 36 inch pattern which is still a joy to sleep with.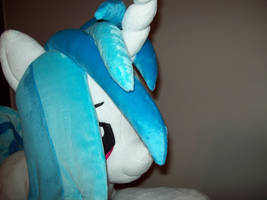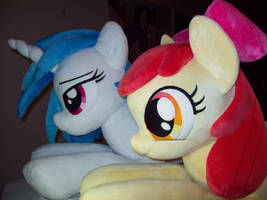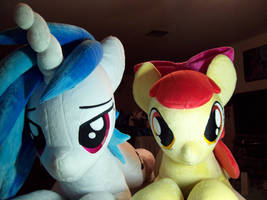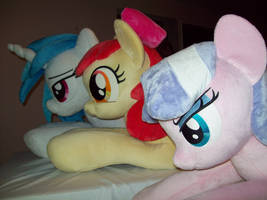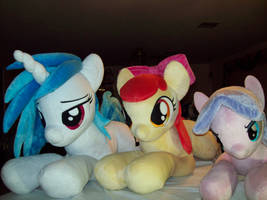 Vinyl Scratch has the following features:
-Cuddle 3 minky
-45 inches hoof to hoof

-flat tail
-applique eyes and cutie marks
-beautiful thread sculpted horn
-new head pattern with gusset
-tail dock
-stuffed ears (this is a new feature and I love how it came out)
-3D mane made up of multiple pieces stuffed and sewn together
Thank you so much

for this beautiful Vinyl Scratch! I am very happy with this plushie and I am impressed with your work. I look forward to another plushie from you.