UPDATES
Also in mid December I will be letting my core expire. Just so no one reacts, I'm still here, sort of, just not as active. I don't really have a reason to keep it going anymore.
I'll still post primed and finished pieces, with all images as well as wips being posted to my viistar_ Instagram.
Eventually I'll migrate my price list over to Trello, along with a list version of my 'section of projects' as well as update my website to have recent images work so it's usable and more under my control aesthetic wise.
Trico is still available for purchase for 275us + ship: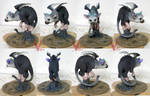 Also, Borderlands is amazing and I love Mordecai.
COMMISSION INFO
Sculpture and Illustration:





*I don't make tutorials*

If you would like a quote for an invoice and a spot on the waitlist, please send me
- an IMAGE (or link to an image) of the character you want sculpted with description of details
- the HEIGHT or scale (foot to head preferred)
- your ZIP/COUNTRY for shipping quote.
Pricing Info
:
viistar.deviantart.com/journal…
Selection of Projects:
fav.me/d7m67yl