Back here in the states, I've moved in with my sister Jana, who's been battling breast cancer this past year and recently had a hysto. I've taken over critter upkeep so she can get some rest, which includes the three hens. At first, they were wary of me, but now that it's winter and they depend entirely on us for food they've been slowly getting friendlier. The best way to get an animal to pay attention to you, I've found, is to imitate it's noises, so I've been calling them for their feed by going "bok bok bok bok" and they seem to really like this. When they see me in the kitchen through the window they'll come running to the back porch, ready to eat.
Last week we had one of those polar vortex things that dropped the temperature into the single digits at night, so we brought them indoors at night. They chilled in a big dog cage and were clearly thrilled, settling right in and making happy noises. Naturally every time I walked past I'd bok-bok at them and give them some grapes or a piece of bread or whatever. I noticed when I go in the back yard they've gotten very clingy and they'll even take treats from my hand, whereas they wouldn't get within arm's reach before. They were doing this while I was cleaning out the coop today, and when I reached over to pet Speckles she squatted down and held her wings out, which is chicken for "come hitcher"! I realized that I'd been doing exactly what roosters do, call their hens over and point out treats to them.
I've read about ostriches getting confused the same way, and doing some research this isn't uncommon with all-hen flocks (we can't have a rooster because we're in a residential area)
My girlfriends, apparently: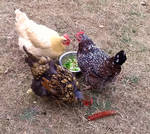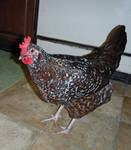 (Goldie looks kind of horrible right now because she's molting)
It's oddly flattering. I hope at least I'm a handsome rooster!