So far, this space was occupied by the heroines (Angelica -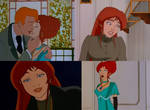 and Elizabeth -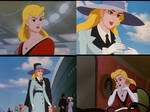 ). But not we open our floodgate to a vilainess at the style of the Disney ones: Rachel, the Duchess of Camden from 'The Legend of the Titanic'.
You just see her and you will know from the first second she is up to mischief. Elizabeth's stepmother, she is the textbook lady vilainess (the personality section at the Wiki -
mondo-world.fandom.com/wiki/Ra…
shows it all). Her goal is to make her stepdaughter marry a guy she doesn't like (oh the obvious) as it might be linked to whaling stuff (oh, the politically incorrect shit).
Since every story needs a portrayed evil, she is the kind that stands as in at both Titanic movies. And well, as every vilainess as fairytale level, she has to be dressed as fashionable as she can be (which rustles my pet peeve that fashionable people has always to be 'not good' and good people to be 'modesty dressed', but let's not delve into that)
Anyway, even if she is not the beauty, she attracted me enough to be listed as a 'Belle'. And it's it
Duchess Rachel Camden/The Legend of the Titanic belong to
ITB Spain/
Hollywood Gang Productions USA/
Orlando Corradi/
Kim J. Ok/MondoTV. All rights reserved
Image size
1160x800px 1.91 MB