Adventurer, Fan of Arts, Hobby Musician, avid Role-player and more!
I'm Vicky! Hardly identifiable as an artist per se, but maybe identifiable as a hapless social creature curious about anything and everything. Hyper, thoughtful, absolutely crazy and spiritually meditative all in one single package; You never know ahead of time which state of mind you'll get!
I mostly dabble in small-time digital/electronic music composition and occasional story/character writing. The real magic i leave in the hands of exceptionally talented artists who can bring my mind's many creations to life in a way i couldn't ever do myself.
Maybe you're one of them? I gladly commission people to have a go at drawing characters of mine if they think they're made of the right stuff!
Regardless; It is very nice to make your aquaintance and thanks for dropping by my page!
I wish you a really great day!
And where that fails, i wish you all the strength you need to go out there in the world and make a better tomorrow!
Yours Truly,
VickyVild.
All respect, love and big hugs goes to
DaneTesla
for making my avatar and profile picture possible! Thank you so much!
:thumb691630180: :thumb693339296:
Super-endearing art of Athina and her beloved partner Aerri, all the hugs, praise and hearts go to
Scaleeth
!: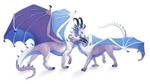 Reference Sheet Art of Athina is courtesy of the amazingly talented and incredible
TwilightSaint
:

I can never express my gratitude sufficiently for this piece!