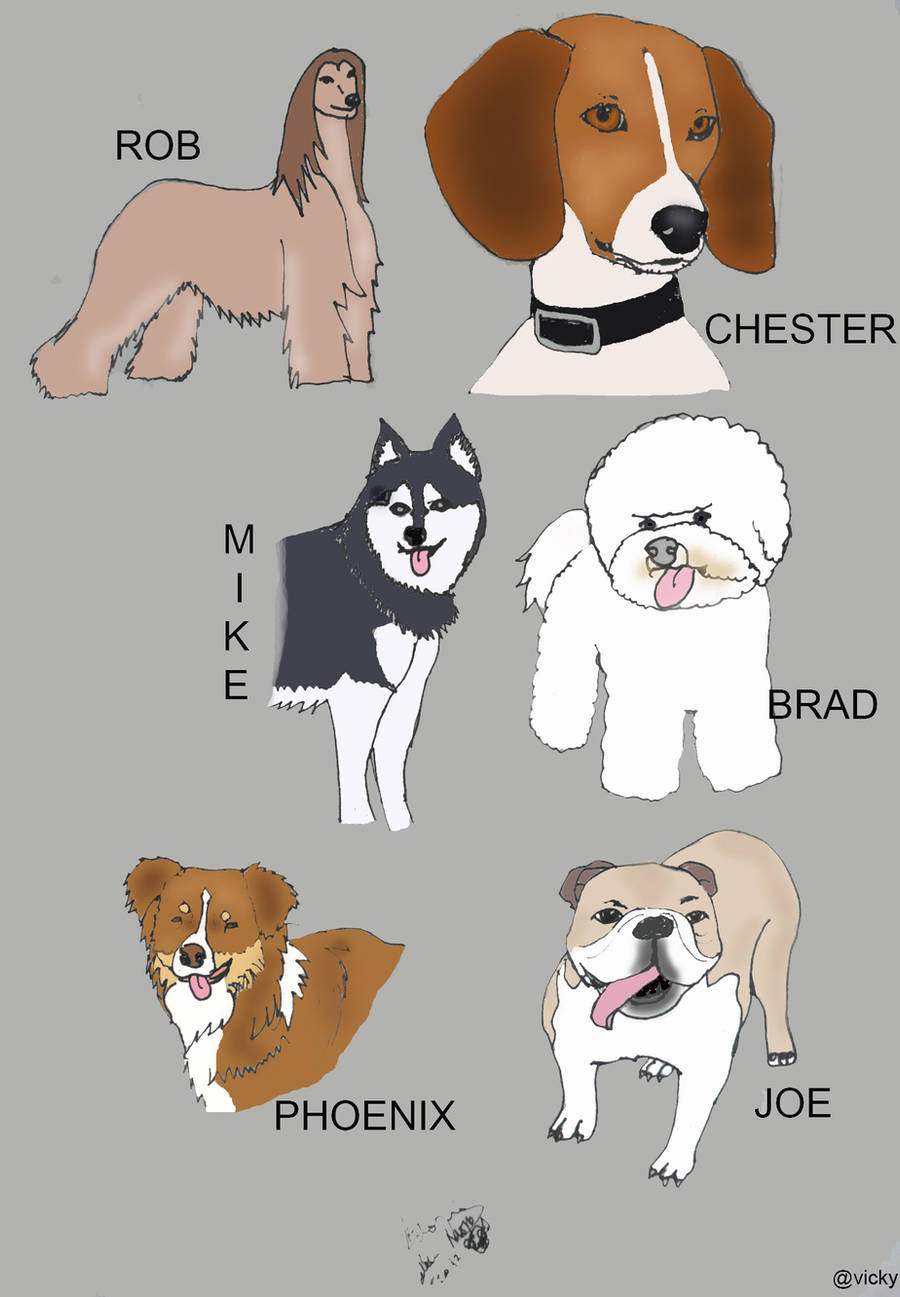 Watch
Rob - Afghan Hound
Chester- American Foxhound
Mike - Alaska Klee Kai
Brad - Bichon Frisé
Phoenix - Basque Sheppard Dog
Joe - Bulldog

♥

oh ..hh lol i'm going to fav it

Reply

hahahahah XD thats fit them! XDDD

ohhhh chazyy the cute little dog! XD i even imagine him like a Chihuahua sometime LOL~
Reply

hahuahuahu I thought about a chihuahua too *-*
But it ended up being an American Foxhound*-*


Reply

Hahaha. Brad and Rob are so perfect!
Reply

For some reason I`m totally caught in this image-I love Joe,and Rob and Poodle Brad(but shouldn`t he be black

) But -for this same reason-I imagine Mike more like a pekingese or belgian griffon

for Chester I don`t have a clue...
Reply

haha I´m glad to hear that! Thank you <3
Ah, I was going to do him Brown (Brad) but unfortunatelly, There´s no Brown Bichons ;.; They´re all white.
Poodles are a different breed,so there´s only white/brown/black poodles;.;

Pekingese? They´re so cute;.; Good idea!
Chaz could be any cute little dog <3 Cause he´s just too cute!

Reply

aww doggies <3 i imagine chester to be more of a pinscher though xDDD or or or a Yorkshire terrier
Reply

hauhuahu
I totally thought about a Yorkshire too! But it end up being an American and I don´t even know why;.;

Reply

Reply

haha thank you <3I´m glad you liked!
Reply

Daaw

Hehe if you want to check out my art and leave a comment!^^
Reply