A few weekends ago I attended Otakuthon in Montreal, Quebec (Canada). It is hands-down one of my favourite Canadian cons and I always make an effort to debut something special there. It is located right in downtown Montreal, so I always feel like I'm in a combination of con/vacation. Montreal is also a very beautiful city with plenty of elegant and regal shoot locations.
TL/DR Below
Thursday
Thursday turned into a bit of a nightmare and I'll tell you why:
-A worked on my Dark Elf costume all the way until 6AM
-I woke up around 9 AMish to prep for departure and allotted about 1 hour to pack
-I end up being in the shower for an hour doing who knows what (contemplating the universe? dozing off?)
-When I got out I saw a text from
Yume-ka
in panic mode because she forgot her skirt for Chise and she was already on a bus to leave Montreal (she knew I was taking a later departure)
-To get the skirt I would have to detour to a different part of Toronto before I could head downtown to catch my bus.
-The detour would cost me about an hour factoring in average traffic in Toronto
-I could choose to be a selfish prick and not attempt to help my friend and make sure I was covered myself (remember...I had 2 empty suitcases still), or I could do anything in my power to make sure that skirt was in my hands and on the bus with me
-I think it's pretty obvious what kind of choice I made (I hope)
-10 minutes to pack ALL THE THINGS. FUN! /sarcasm
-My dad pretty much drove above the speed limit all around Toronto to make sure we could grab the skirt from Yume's mom, and get me to the bus terminal on time. Thanks Dad.
-An hour into the bus ride from Toronto to Montreal I realized I pretty much forgot half my leg armor, and my wig for Dark Elf among other minor things
-I came close to saying "screw it" but I also wasn't going to be a let down to
KakeranoTsuki
who was entering the masquerade with me as Light Elf
-My mind had all of the 6 hour bus ride to go into cosplay survival mode and think of how I was going to rectify the situation
-Luckily I had a friend in Montreal,
Thornrose
, who I texted to pick up some black craft foam before I met up with him for dinner. I was determined to work some miracles with that black craft foam
After arriving and settling down at the hotel in Montreal, I met up with Thornrose who gave me the craft foam and we went off to La Banquise for some DELICIOUS poutine. After that poutine I felt like everything was going to be fine.
Friday
I worked on my Dark Elf cosplay for a lot of the morning. I finished the gauntlets, sewed the collar piece, and cut out pieces to redo the leg armor. I didn't have that much time to work though since I had to budget time to transform into Astharoshe.
KakeranoTsuki
had a few Trinity Blood shoots scheduled on Friday and I also had to go into the Dealer's room to buy a new white wig >.>
Our shoot with
alucardleashed
went really well and I absolutely love the first preview photo he sent us: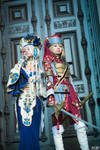 EnchantedCupcake
Also shot with us in our Trinity Blood costumes and I can't wait to see those photos!
After the shoot I enjoyed some quality time with fellow Toronto cosplayers:
RocknamLee
,
scapegoated
,
straywind
,
Angathol
, and Sierra.
ckdecember
also tagged along which was nice! The organic Salmon dish I had was amazing!
I don't recall sleeping at all on Friday. Kakera came over to my hotel room to help me finish off the scymitars

Saturday
Mostly a blur for me due to the lack of sleep. I "woke up" really early to start painting my entire body grey for Dark Elf. My two awesome roomies,
meameaa
and Kristina pitched in to make sure I was grey from head to toe.
As soon as I got changed into Dark Elf, I met up with
KakeranoTsuki
to prowl the halls of the Palais Des Congres and find an available photographer to shoot us. Boy did we get stopped for photos non stop! Even though I was kind of in a daze I still remembered to stop by Artist Alley to say hello to a long-time deviant friend,
AyumiNazu
. She has supported my cosplay since the beginning, plus she was wearing the kanzashi I made for her as a Kiriban prize so I HAD to drop by to see that too!
PSD
No Preview
Luckily, Eleventh Photograph had some free time and was willing to walk with us outside of the convention center to shoot at the perfect location that I had in mind. The photos turned out great!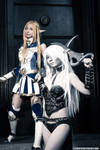 After the shoot, we rushed our butts to the Masquerade Green room. That was one of the most frustrating few minutes of the entire weekend. We got some misdirection from con staff but we eventually found the room just in time and avoided disqualification.
We worked really hard to practice our skit in the green room. I was insistent that we wouldn't be doing slow-mo sword fighting, and there would be a surprise at the end. No matter how much we practised, we did miss an audio cue or two when we were actually on stage. Bummer. However I believe the surprise ending redeemed the skit.
Watch it here:
youtu.be/akHG6Wv1OEY?t=8m4s
Normally I would feel like dropping dead after a masquerade, but I scheduled a night shoot with
solartempest
in front of the iconic fire fountain. From what I saw from his viewfinder after the shoot, I can only tell you to expect some major epicness. It really did cheer Kakera and I up since we're both perfectionists and were a bit depressed about the slip-ups at the masq.
Sunday
I didn't bother to cosplay on Sunday and just wandered around in civilian clothing. I did wear my San wig to hide my unstyled real hair. A lot of people thought it was my real hair ahahaha.
During the Masquerade Award ceremony I found out that Kakera and I won "Best Theatrics" in the Master Division for our Lineage II skit. That was great!
I got a chance to properly chat and catch up with Cosplay in America, and I said good bye to a lot of my friends who were leaving on Sunday.
Sunday night was when the real fun began! Tormantor, and
YunaDaKilla
took Jack and I to this amazing Medieval themed restaurant called Auberge du Dragon Rouge. It felt like we stepped into another world. The service was great, the ambience they created was authentic, and the food was uber delicious. I had a blast regardless of the language barrier.
Monday
Monday marked home time and after breakfast with Solartempest, Sakura,Tormantor, and Yunadakilla; and a mini tour of the Old Port, Jack and I departed Montreal for Toronto.
I really wish I could've stayed longer in Montreal, but I had to work Tuesday morning.
TL/DR:

Friends come first

When it's crunch time in the hotel room, cosplay miracles happen

La Banquise makes the best poutine

Lineage II with
KakeranoTsuki
was awesome! We won Best Theatrics in the Master Division at the masquerade

Dinner Sunday night at Auberge du Dragon Rouge was AMAZING even though I'm not fluent in French and had no idea what was going on half the time



"Like" my Facebook Page
Vickybunnyangel Cosplay
! Thank you always for your support
You can also follow my daily musings (sometimes cosplay related, sometimes not) on twitter
vickybunnyangel