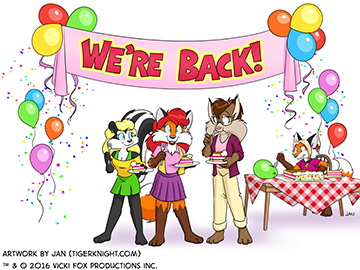 yay!
After a lot of work, we announce the return of Vicki Fox's comic strip!
New artists - Welcome Jan (TigerKnight.com), whom many of you may already know for his two popular web comics.
New web site - The web site is being rewritten from scratch to be responsive to mobile devices, desktops, and more.
So check it out at
VickiFox.com
Let me know if you find any errors. Production testing is always the best.
The site is a work-in-progress, with many pages incomplete.
And, until we get fan participation integrated into the site, please use Vicki's Facebook page.
Happy New Year - Cheers Michael Russell (owner and creator of Vicki Fox)