Sorry for the little delay, This bad cold lost me some concentration, Well here is the results, with violetta (on Furaffinity) thoughts on them:
1st

- super rich and heartwarming story! The twin look lonely and lovely at the same time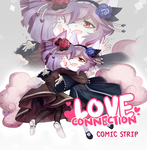 2nd

Twin+distort mode! I love how the compose of the pic goes. Also their eyes look super mysterious. I love it!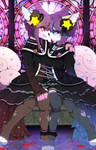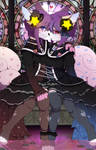 Click here
for GIF Version
3rd CrystalSugarStars & her collab partner chaerie (on Furaffinity) another Distort mode! I love how lively apple is. His personality is really how it should've been. And Cherry's face look cool in both mode too!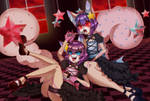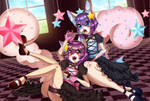 --->
Click here
for GIF Version
4th

The costume is a bit too plain but the atmosphere is super nice! though the right side of the bg felt bit empty & could've added little more depth/details to it, The stain glass look super lovely and suit the twin so much. uwu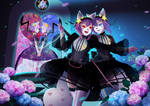 5th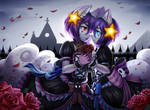 &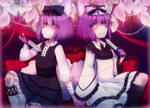 I cant choose between these two since they're too good u_u. I like
CoffArt
atmosphere the rose the feeling about those twin. And same goes with
oncha
the atmosphere, the Self Sacrifice theme move me so much. Love them both!
6th

Cute outfit design I like how they put the plush along the twin. Sadly the BG didn't show much clear idea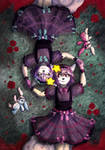 7th

super duper details! the costume and details look super nice! but sadly that i'm not into sonic style much, but still good!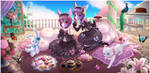 8th

Cute twin with elegant rose! I love how details of the roses and their fluff tails, though i was expecting a bit more than just them sitting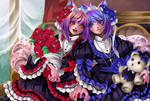 9th blhky on Furaffinity here's go distort mode again! The overall look super cute! but it would be nice if they design new costume. (Those're the one we didn' use) Plus if they color the BG bit more clearly & add more to the scene, it would look more fancy and nice!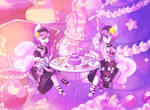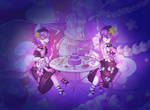 Click here
for GIF version
----
off-rule & Not so much suitable for the theme so we had to put it last (10th place)

Tavin - CristalAvi on furaffinity, The overall look okay-ish but the artist broke the rule that they're collab with other w/o telling us at first since the begging so both artists will have to split the prize, i also expected a bit more since i saw the wip sketch, other than that i still like it overall as an art, still had good potential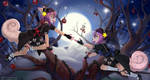 TFOTR on Furaffinity too plain, didn't see how they're connect much sorry, but still really good art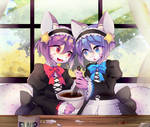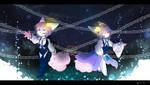 It may have been hard decision for the last places, but just because it got last doesn't mean the art is not good or that we are not happy with it, but the judgment was done on how related the picture is, the concept & then last the details, the theme of the food & music picture could've competed well in another theme though
I will be sending notes to everyone for their paypal (if you did not get a note please send me one) please allow up from 3 to 5 days to process the payment as me &
violetta
progress in managing everyone payment, may get it done earlier but if by anything, then it should be done before new year
Thanks for those who joined & tried their best, it was really nice seeing everyone creativity