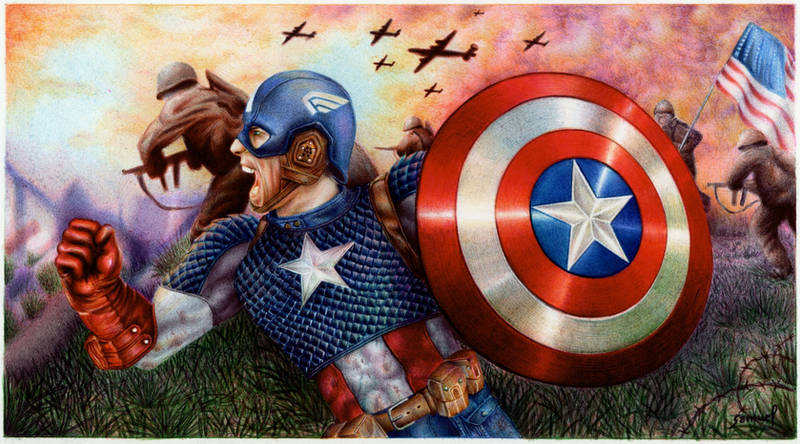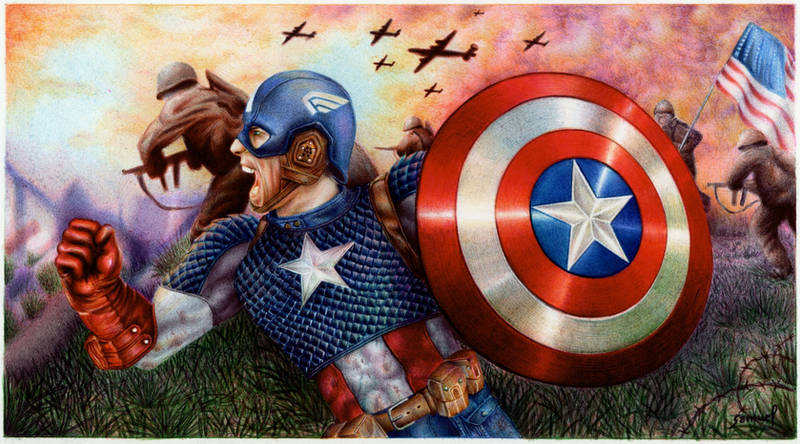 Captain America - Color Ballpoint Pen
Commission. No reference. Based only on the character by Marvel.
Took aprox. 30 hours to finish over a period of 3 weeks. Lost 25% quality during scanning.
The size is 10.62" x 5,78" or 27cm x 14,7cm.
Thank you.
About the character:
Captain America is a fictional character, a superhero who appears in comic books published by Marvel Comics. The character first appeared in Captain America Comics #1 (cover-dated March 1941), from Marvel Comics' 1940s predecessor, Timely Comics, and was created by Joe Simon and Jack Kirby.
Captain America uses a nigh-indestructible disc-shaped shield made from an experimental alloy of steel and the fictional vibranium. This alloy was created by accident and never duplicated, although efforts to reverse-engineer it resulted in the discovery of adamantium.
----------------------
Materials: Bic Cristal Pocket Scents colored ballpoint pens:
[link]
on 300g/m2 smooth paper.
Classic black Bic ballpoint pen and Classic blue Bic ballpoint pen.
© Marvel Comics

Artwork © Samuel Silva - VianaArts 2012 All rights reserved.







The owner of this deviation has disabled comments.