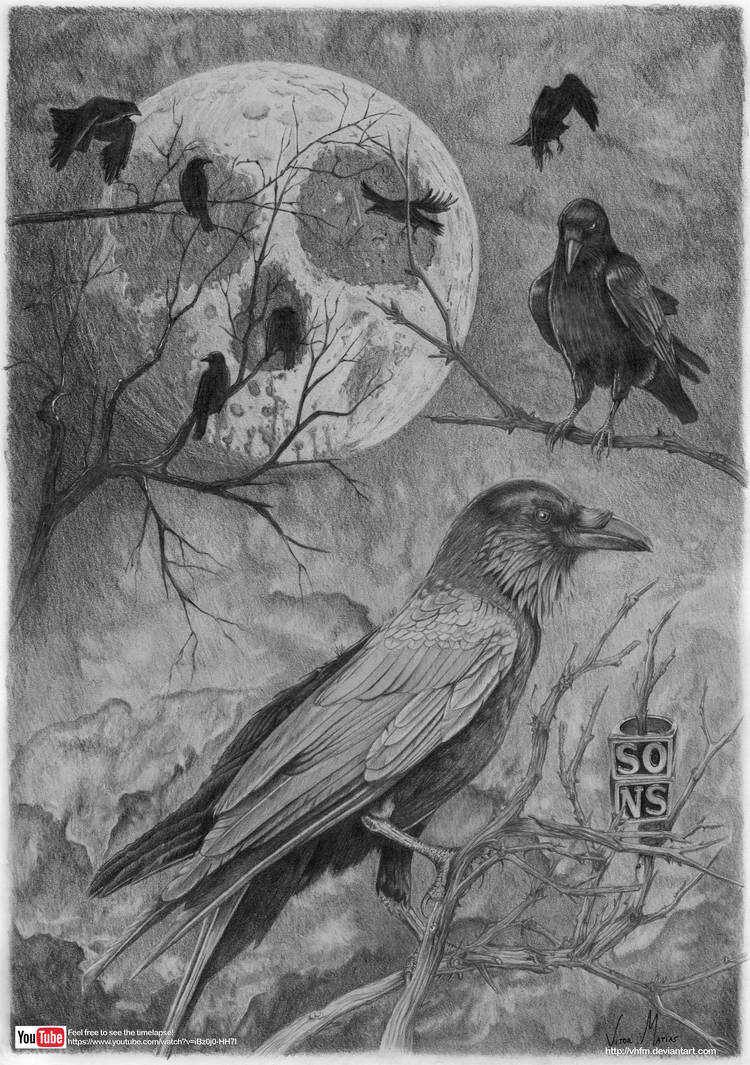 Watch
This art is a tribute to one my favorite series "Sons of Anarchy".

Art created with graphite pencils.

I would prefer you wouldn't post this art anywhere else but if you feel like you really want to just leave the name and link below, as well as the youtube information! Do not erase or cut it!
Feel free to take a look at the timelapse:
www.youtube.com/watch?v=iBz0j0…

Hello,

welcome to this year's critique event, so Merry CRITmas to you!
I really enjoy the scenery which has something dark, gothic, Victorian like. It is a wonderful detailed drawing of the single feathers, tree branches and the front raven's face. I like the shading of the background which gives it a gloomy and portentous look as if several dark clouds are gathering around the scene. I do not know if it was intention but the full moon looks like a skull with its holes and openings as eyes and nose. If it was purpose: Well done! Also the three ravens flying have been captured in a way of real movement, quite lively in their motions, either to lift up, to circle or to settle down. You have put a sign on one branch "Sons" and reading your title if refers to the "Sons of Anarchy" which I do not know. It rather reminds me of Edgar Allen Poe's "The Raven" poem. Well done!
Keep up that great work.

Reply

Very gothic and Edgar Allen Poe-ish! I love the pencilling and shading.
Reply

Thank you very much! To be honest I didn't know Edgar Allan Poe. Now I know, thanks to you. I already read his poem "The Raven" btw!

Reply

This is a beautiful drawing, really worth its faves!
Reply

Love the song immensely.

So beautiful drawing! ♥

Reply

Thank you!

The song is indeed great, the lyrics are something else! And the series are awesome as well! It just happened that I stumbled in this song and decided to watch the series! Totally worth it!

Reply