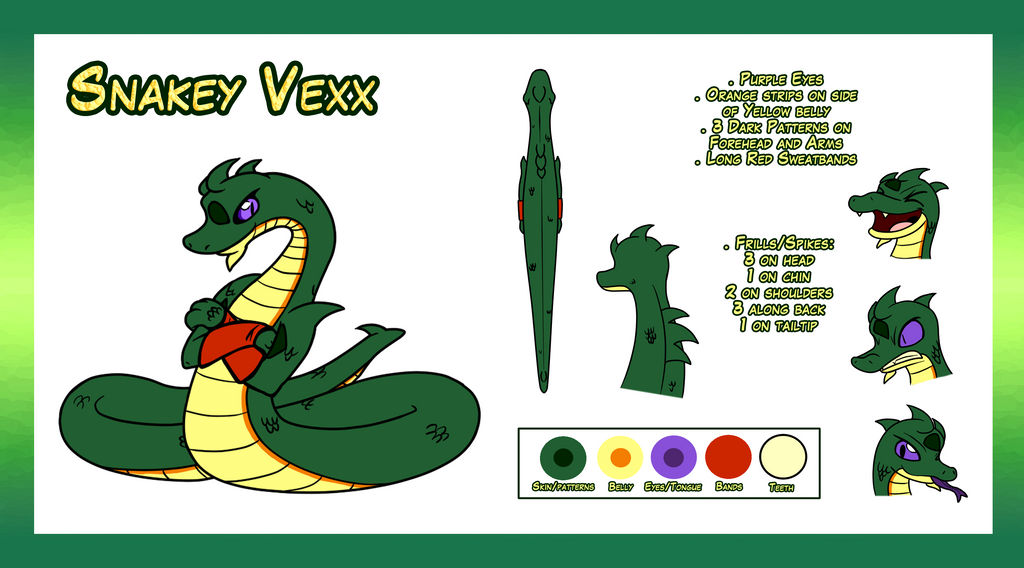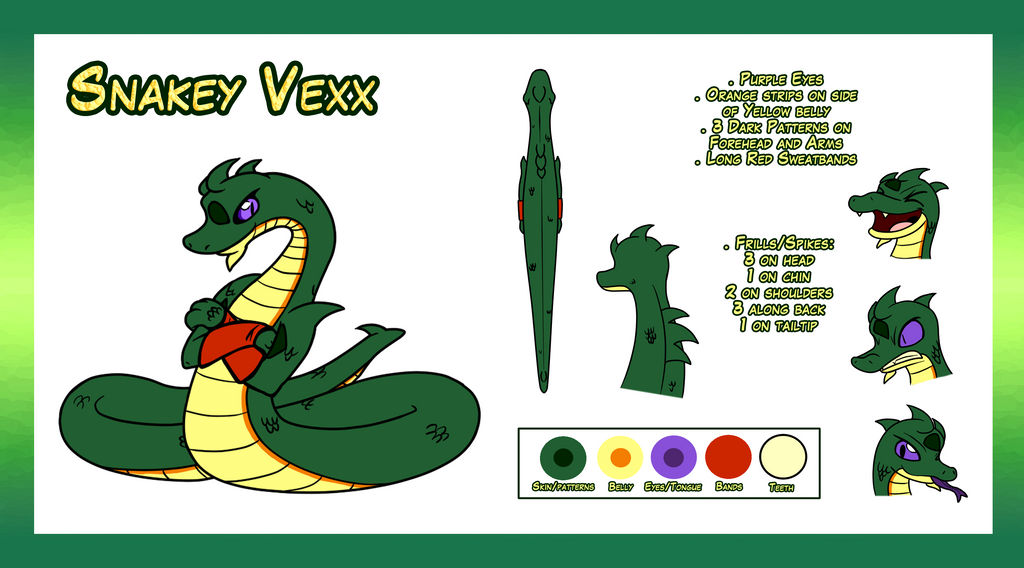 Beh, couldn't think of another title.
Okay so, this is my own personal persona, or Snakeysona if you will~
Its mainly for SSP purposes, but still its nice to have a character to call your own. Plus I like snakes. Was born under the year after all~
Gotta thank
SleeplessTotodile
for some of his help in the design!
And don't worry, he's not replacing Vexx or anything if you're wondering. Don't plan to get rid of any characters even if they are basically the same ;3

"Plus I like snakes. Was born under the year after all"

Even your western sign (Aries) is true. Like how I described Vexx back then, & that's also why I respect him. Courage, something that I (at least I think I do) lack at times.


I mean, it's obvious that Vexx the Bulbasaur's basically you as a pokemon, isn't it? ,: )
Reply

Yeah it is quite true ,:3
Thanks though
Reply

Oh, wait, I meant that so far that I've seen, just about nothing seems to scare you.
Except for a particular kind of enemy (although I don't know if it's that, or something related, but I'm guessing you wouldn't wanna confirm?)
I'm not sure if I'am, since it seems more inconsistent. I mean,
some things that scares others, either just makes me nervous, or don't scare me at all, and vice versa (some things that don't scare others, scares me)
Reply

Also, when I checked your Snake sign. That would've made/"convinced" me to respect you even more

I mean, about your western sign, that kind of persons, I normally imagined that they're the kind that always charges into danger & overlooks the smarter one's warnings. Ultimately & literally "throwing their lives away"
However, your western & Chinese signs, I'd imagine that you would at the very least think long enough to consider if something's too risky or not, or that you're a risk-taker to an extent.
Reply

Anyway, when I started doing some "research" on the signs, (especially the western ones, since they feel more accurate to me, & of course, you seem to prefer the Chinese ones more) I thought that it would've been more efficient if the PMD games would determine the player's "inner pokémon" through their signs instead.

If so, could imagine that the player would either let the game "look it up" for them, or type it in themselves if they knew.
Reply

Reply

Reply

Interesting choice for a sona, and it's not armless either.
almost thought it was going to be a dragon at first due to the halloween count picture. ,:3
Reply

I approve of this snakey design! XD
Reply

Reply