EDIT: For this prompt we got one entry, which also wins the common slot!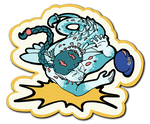 Congratulations
hitodama89
!
You receive a common slot from the September-October 2019 prompt event!
Make sure to screenshot this journal with your username showing when you submit your MYO! Even if you trade/give away your slot the new owner must provide proof of this screenshot + proof of transaction between the original contest winner and the new owner.


-----------------------------------------------------------------------------

Note: monthly themes are now bimonthly themes! This means you have an extra month to work on your piece.
We all have had to learn some things the hard way: by touching the hot stove despite our guardians telling us not to, or by learning that you can't trust strangers to keep your secrets only to themselves. It's much the same with vetehi: sometimes the only way to learn is to try and fail, whether it's the lesson of not angering sharks or to not get too close to humans.
For this theme, we'd like to see something your vetehi has learned the hard way! It can be anything from illustration of an actual scene to a picture of the aftermath of a bitter realization - only your imagination is your limit! If you're a writer, it can be a scene, an emotional reflection of an event or something else, as long as it ties to the theme!
READ THE NEW PROMPT RULES FROM HERE
Among everyone who submits before November 1st (GMT+2 Helsinki time) one common slot will be raffled.
If you're alright with your vetehi being used in this month's prompt, please link a reference in the comment section & specify what you're comfortable with (art/writing + additional comfort zone details)