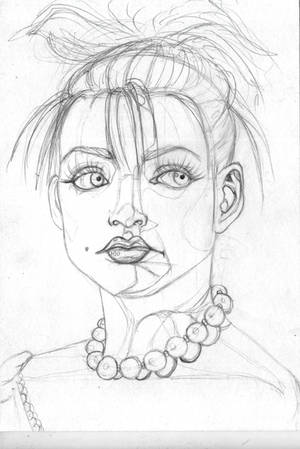 Tips and WIPs Jar ^^
If you like and appreciate my work feel free to tip me ;) I truly appreciate your kindness :D
---

Something Red Walkthrough
Description
This is a walkthrough on how I did the picture
Something Red
, based on a photo by
. And it's probably the closest thing to a tutorial that I'll ever make.

1. Exported linework from Freehand to Illustrator. Changed color to from black to #720000.
2. Did base colors as follows:
Skin: #FFF1E6
Lips: #E338OC
Tongue: #F7775E
Eye (Iris): #909058 and #CBC851
The white of the eye and teeth are plain white (#FFFFFF).
3. Did skin shading with semi-transparent (5-30%) shapes (color #720000) set to multiply. When the shading would start getting too dark, I'd group everthing and lower the transparency to 70-80%.
4. Skin shading was too dull so I created a new layer above it and drew a shape filled with #E33BOC and set to Color Dodge and 40% transparency. I also created some highlights by drawing shapes of the skin base color () and white (#FFF) set to lighten and blurred.
5. Shaded the lips and mouth the same way as the skin. Color #720000, 15-30% transparency. Highlights are #FFF1E56 set to lighten/30% transparency.
6. Eyes shaded the same way as everything else. Color #720000, 5-20% transparency.
To finish I added a new exclusion layer (color #021028) set to 80% transparency.
Image size
620x2788px 269.75 KB