Hello dA!I am a 13 year old girl living in the southern Texas area,soon hoping to move to Italy.I would like to be an artist when I grow up. I like Homestuck,Slenderman,OFF,Adventure Time,Silent Hill,Avengers,etc.I DON'T like anime for some wierd reason.I want to become an animator for Nickelodean one day.


---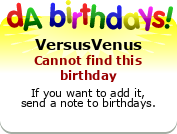 ---

Current Residence:My OWN World
Favorite genre of music: Christian,Hipster,
Favorite Style of art: Semi-Realistic(But I draw in a cartoony style,cuz I cant draw semi realism

)
Operating system: Windows
Role Model:
Favorite colors: Black,red
Sexuality: Bi(Mostly a lesbian)
My funeral song:
Favorite bands: Keane,Coldplay,The Killers,Mumford and Sons Of,Monsters and Men
Style of clothing: Hipster
Mythological creature: Seadweller troll
Wallpaper of choice: Homestuck or Vintage
Personal Quote: BWAH!!!!

---

Soulsofsaturday

VersusVenus

---
---

Click Me!

Click Me!
---
THINGS I LOVE