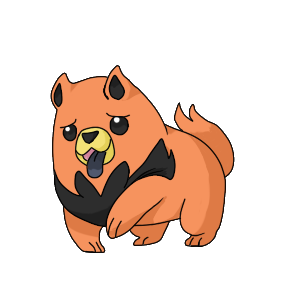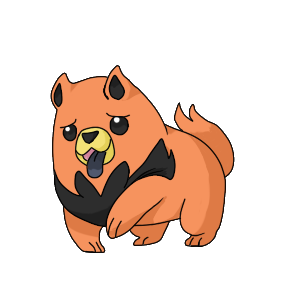 Chowchar
The ThickFur Pokémon
Type: Fire
Ability: Blaze
Dex Entry:
"CHOWCHAR fur naturally generates heat. This allows them to survive in even the most frigid climates."
Chowchar >> at lvl 17 >> Torchow >> at lvl 36 >> Ursear

Based on a Chow-Chow dog.
Name: Chow-chow dog + Char/Charm
Design & Concept :


Art Contribution :


Moveset:
Start Tackle
Start Tail Whip
7 Ember
9 Odor Sleuth
13 Icy Wind
19 Flame Charge
22 Rollout
26 Cool Flame*
31 Take Down
36 Heat Wave
41 Head Smash
46 Roar
51 Flare Blitz

*Cool Flame - Special/Fire/90 damage/10pp - May cause freezing.

It seems to evolve into something like Fire+Ice
Reply

I love this! It's a really nice idea to use a chow-chow—I think it fits very well (the black tongue even makes me think of its tongue being charred, heh) in addition to being a nice break from all the lupine dog starters, and it's got a lot of potential for interesting evolutions. Plus, it's very cute!
Reply

Thanks! The blackened "charred" tongue was one of the reasons I chose a chow-chow for my starter! I honestley got a little bored of lupine starters, and thtought I'd shake it up! Heck, his final evolution is Fire/Ice Type!
Reply

Oh, well then I'm definitely looking forward to it! I'm kind of surprised that not many people try to find interesting uses for fire/ice; yeah, it's a tough type combo to make sense of, but it can be done and not enough people attempt it, imo.
Reply

I find that combining the icy and burning parts of a fakemon is difficult, so I chose a fire starter who can survive and orginated in Tibet! Because of the cold there, it would only make sense for Fire/Ice!
Reply

the fire starters signature move is "Giga crash (Fighting)"
Reply

That's the one u made for my contest! I'm really glad I see it's gonna be used, cause I love this original design!

Sig: Fiery Eyes
Reply
Reply

I love him so much

Reply