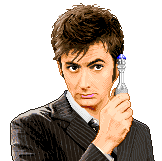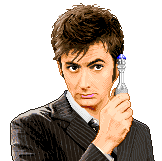 Watch
The picture I worked off of is located at
[link]
I had a really hard time deciding which category to post this in -- mainly because, I pretty much just pixelled the picture. I'm pretty good at copying, whether it's pixels or a painting in real life. Why? No idea. Anyhoo, I decided to post this under "traced base" even though I didn't technically trace it. I sure did keep the original picture open though for reference!
Anyhoo, a person over at Pixel Glam forums had made some Doctor Who character dolls, so that got me inspired to make something Doctor related too. And that's how I came about drawing this. I was going to create an actual doll, but this picture was so adorable of 10 that I just had to re-create it.
It was a great pixel study for me, as it were. It helped me to learn how to shade skin and hair on a larger headed doll/pixel image, which I'm so not used to doing (I always worked on smaller dolls!).
I don't think I'm actually done with it either. I'd like to have some sort of background...Or a frame...Or something to otherwise finish the picture. I was thinking of adding the text "This is my door opener!"
I also thought it would be hilarious to have him holding a banana instead of his Sonic Screwdriver!