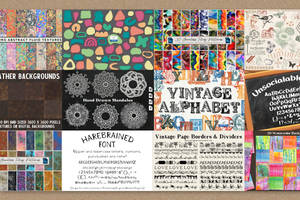 HG Designs Subscriber Area
Lots of high resolution goodies for graphic design including textures, photoshop brushes, seamless patterns and more.
---

Description
Yet another font! I had to fight my software to figure out how to optimize the font file size... it was almost 3 MBs by the time I finished it.... and I'm so proud to say, I figured it out...!!! I can now make crazy fonts and still have them a at a reasonable file size! Yippy!

The font is free for non commercial use. If you want to use it for commercial stuff, please contact me.

As always, faves, comment, link to where font was used are very very VERY much appreciated!