91 Favourites
34 Comments
2K Views
I NO LONGER TAKE DISCOUNT COMMISSIONS!
PLEASE CHECK MY COMMISSION INFO HERE: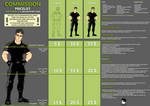 REFERENCES


Please have at least one clear VISUAL reference for your character(s).
Colored if the commission involves color.
Or send me written description as detailed as you can.

HOW TO ORDER

When you decided to order, please send me a note with a title
"Commission request"
with
ordering form
in message

ORDERING FORM

- Commission type
: (portrait/pony)
- References for character
: (preferably photos, arts)
- Expression:
(happy/sad/angry etc.)
-
Background
: (transparent, white, simple)
- Comments / details:
(optional)

PAYMENT

PayPal ONLY - paypal.me/zuokonieczne
Dla Polaków przelew bankowy - przelicznik dolara x3,5 (Komisz = 17,50 zł)

HOW I WORK

After you pay, I'll start to sketch.
I'll send you a sketch of your commission for revision - you can only make a revision once.
All WIPs will be send as links to my sta.sh via note so please check your notes from time to time or I won't finish your commission.

WHAT YOU RECEIVE

After I'm done with your commission, I'll send you a link to my sta.sh to download a full resolution of your picture.
You will receive an .png file (1500X1500px), 300dpi

TERMS AND CONDITIONS

BY COMMISSIONING, YOU ACCEPT THESE TERMS AND CONDITIONS:
I. General terms:
1. You have carefully read and understood all of the provided information.
2. If you are uncertain about certain portions of the terms and conditions, you asked the appropriate questions to fully understand the conditions.
3. I have the right to accept/decline your proposed commission.
4. The commissioned art is restricted to personal use, and will not be used for profit in any way.
5. If you choose to use or upload the commissioned art, you HAVE TO give me a proper credit.
6. I retain all rights to the commissioned art.
7. I have the right to upload the commissioned piece onto my galleries, and portfolio.
8. Payment will not be sent until the commission is fully accepted by both parties.

II. Fan Art:
1. Unmarked versions of pure Fan Art commissions, defined as commissions that contain only official characters, will not be released due to high probability of theft.
2. You will still receive a higher resolution version than the one to be uploaded onto my galleries.

III. Refunds:
1. Full Refunds are available for any commission if the artist has yet to begin working on the commission.
2. For Colored commissions, partial refunds are only available at the sketch stage of the commission. Refunds are no longer available after the sketch stage.

FINISHED COMMISSIONS

Image details
Image size
802x716px 152.37 KB