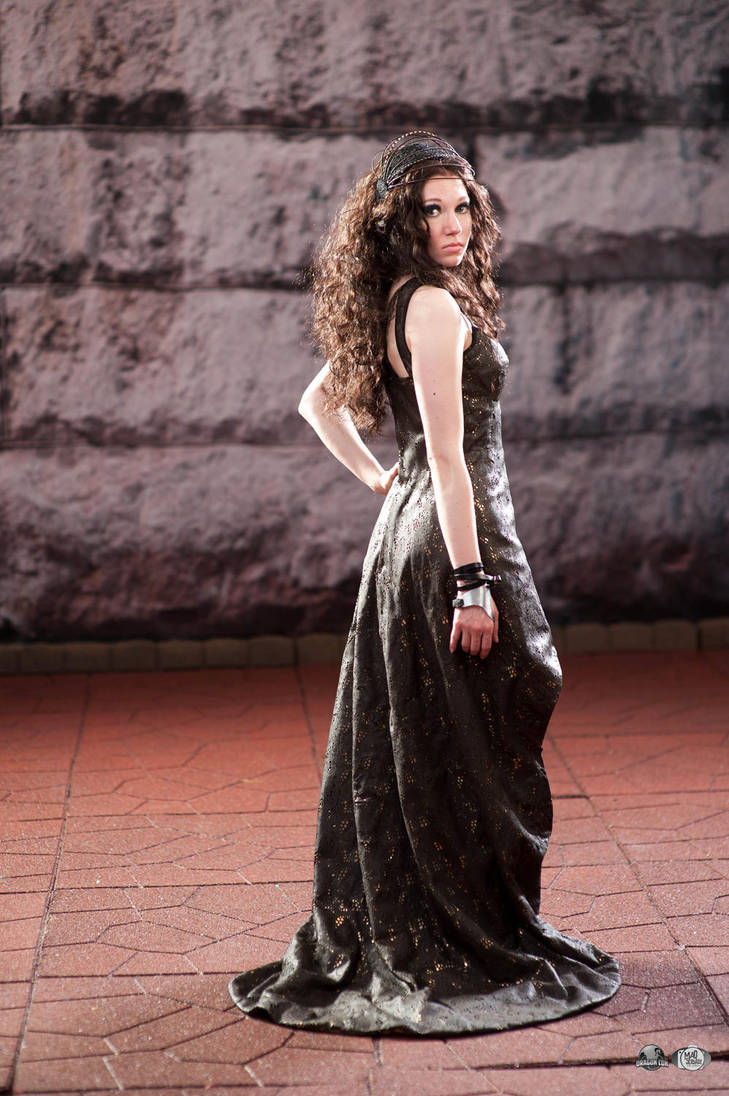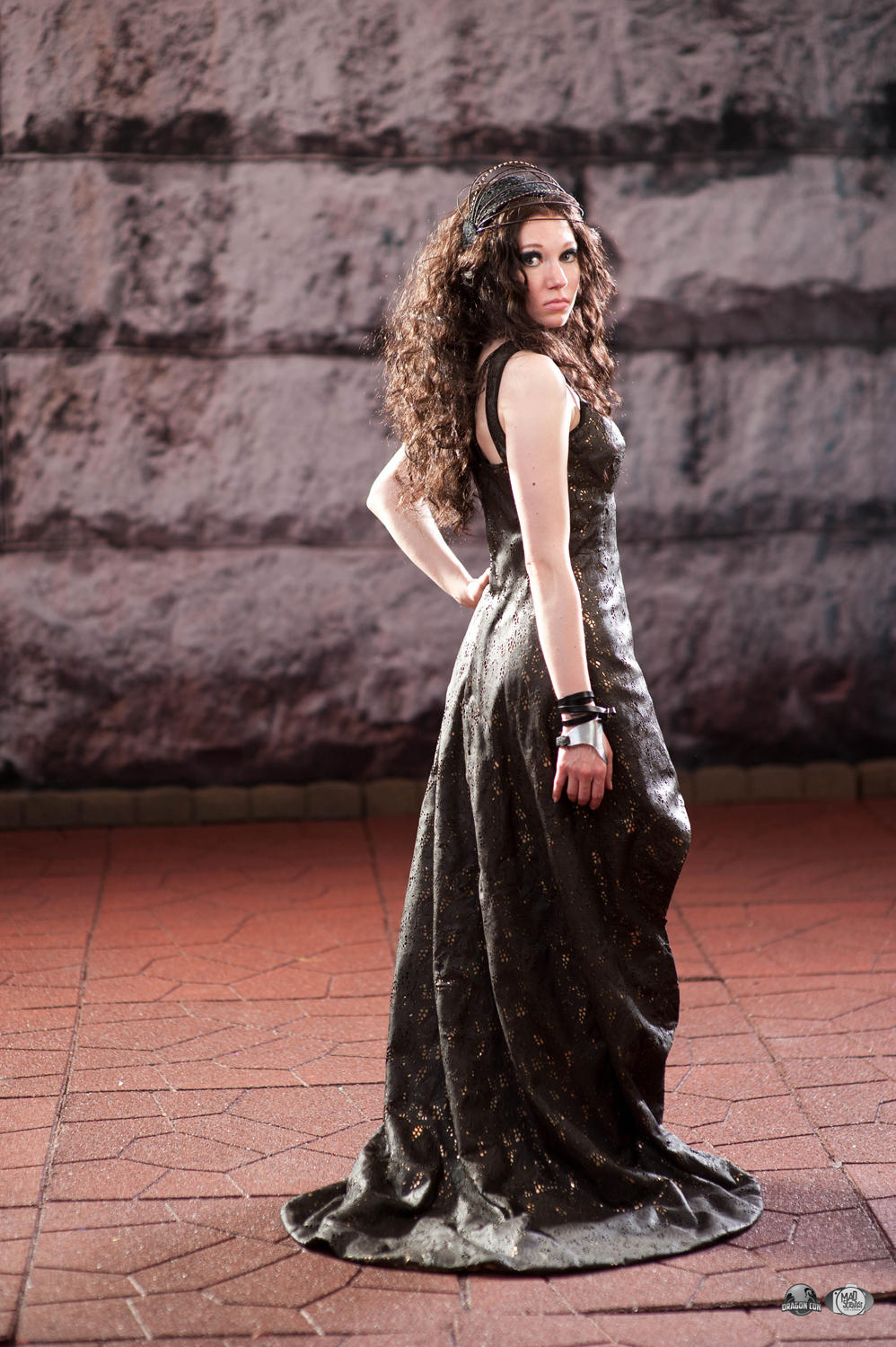 Watch
Back view of my Katniss Parade gown from the Catching Fire movie.
I managed to find laser cut leather with the pattern used in the movie. I constructed a base dress (drafted my own pattern) out of twill with a bright gold layer of fabric flat-lined to it. Then I mounted the leather to the base dress. To deal with the weight, I had to spray-adhere it to the base dress and hand-stitch within some of the motifs to hold it to the dress, then when the leather had to join together, I had to trim along the motifs and hand-stitch that down to hide the seam lines as best as I could. I painted bias trim out of microsuede to finish off the neck, and lined the inside skirt with a dark gold. The bracelet is made from aluminum and leather (can be seen in further detail in my gallery). The headpiece is made from buckram, pellon and hat wire. I couldn't find a lace I liked, so I embroidered some netting on my embroidery machine and hand-sequined it. I covered the headband in silk dupioni and the lace I made. Then I shaped gold wires for the top which are wrapped in fake hair. The make-up is my first ever attempt at doing anything remotely dramatic or crazy, so I'm quite proud of how it came out!
Photo by Bryan Humphrey
***PLEASE NOTE: My work is not 'cosplay', it is costuming. Costuming is the art of creating costumes and designing a character look. 'Cosplay' is the activity of role playing while in costume, which not an activity I participate in, and is often confused for costuming.. Please only refer to my work as Costuming. Thank you for your understanding.***

Do you have a pattern for this dress? I've been DYING to create it for ages and yours is PERFECTION!! But I'll understand if you want to keep it a trade secret

Fantastic job!!
Reply

Thanks very much!
I don't really post up the patterns per se, but I do have info in my blog about it, where I took a picture of the pattern shapes I came up with and how I built it, if that'll help! Here's my blog posts on the dress:
rebelshaven.blogspot.com/searc…
Also, I run a Facebook group called "Girl On Fire" if you're interested where we share info on making the costumes, if you are interested in joining

www.facebook.com/groups/204044…
Reply

Awesome cosplay!: ) Where did you find that fabric? I want to make this dress, but I can't find fabric like this anywhere. :S
Reply

Thank you, but I really prefer my work to be called a 'costume', please! I don't do cosplay, I do costuming.

The fabric is a laser-cut leather I found at a leather store that's located in Iowa, I think it's called Danton leather.
Reply

Wow for the photography. Loving the outfit too.
Reply