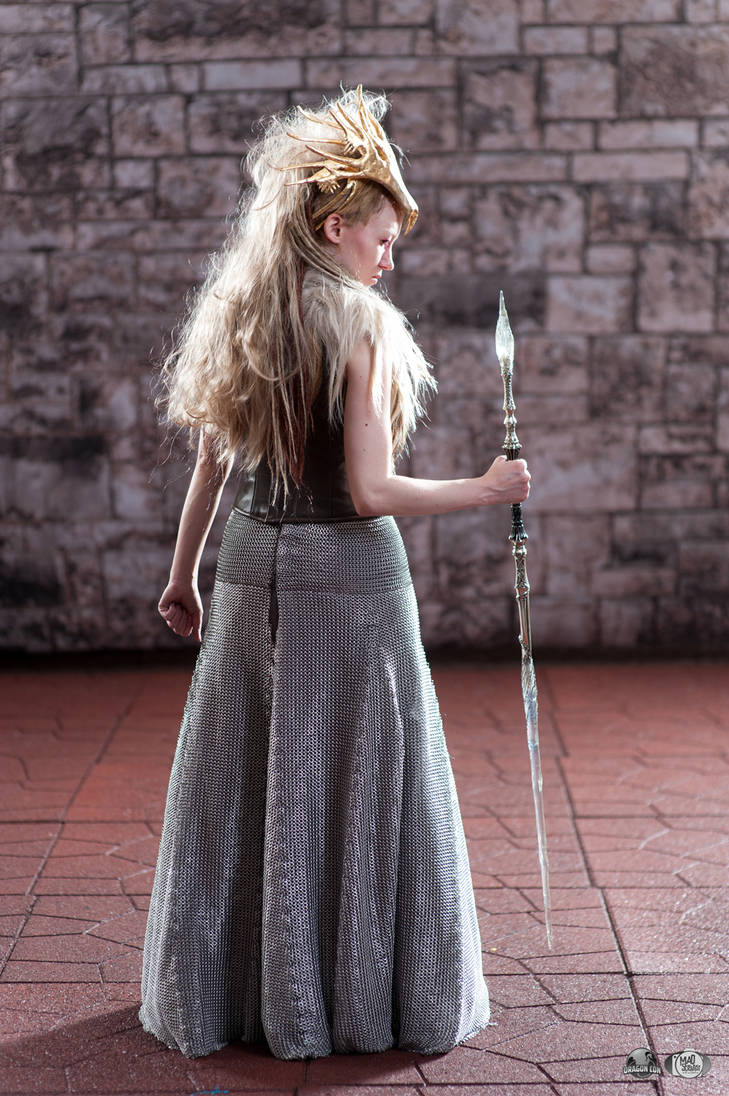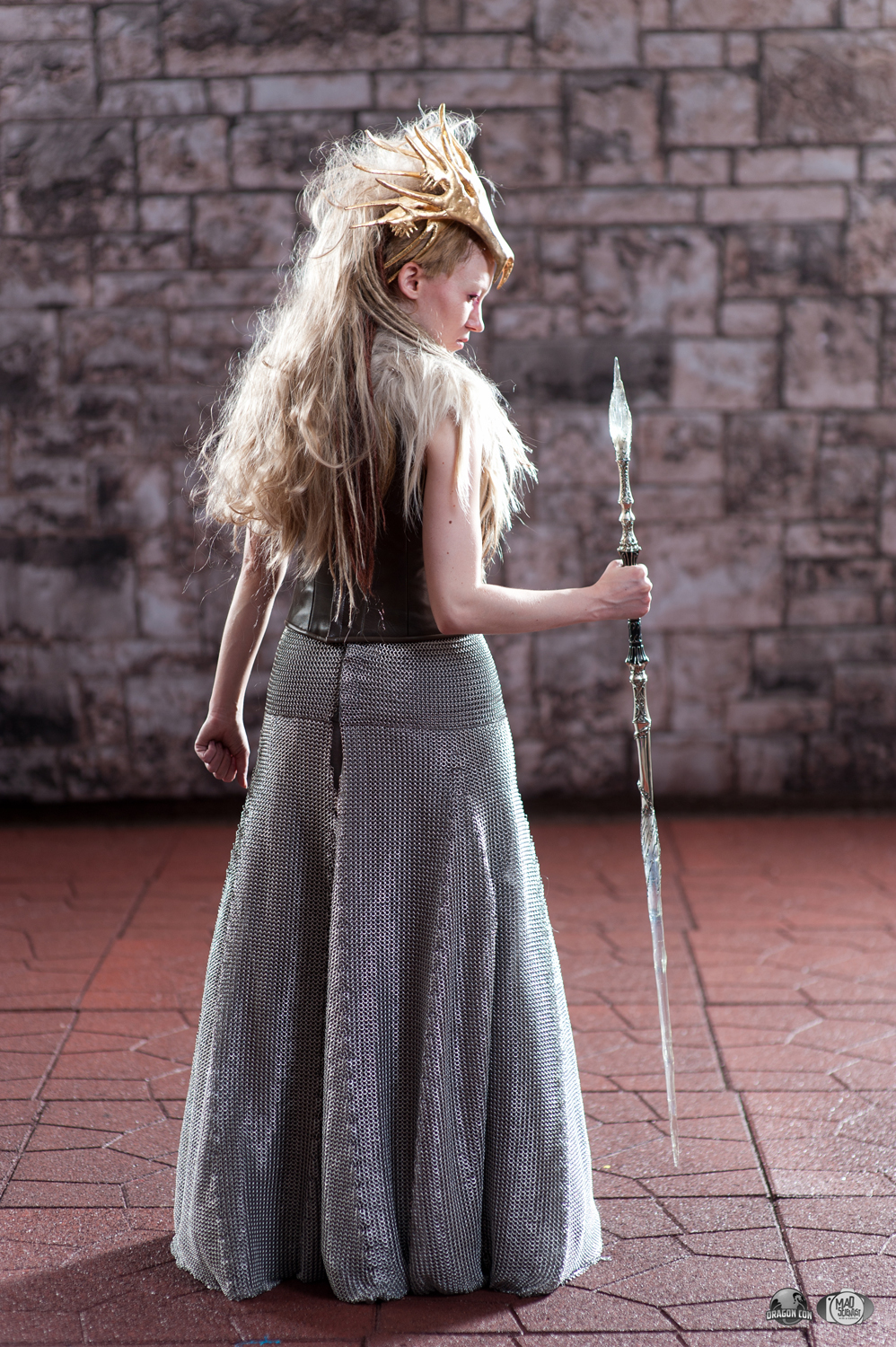 Watch
Here it is, my finished White Witch costume from the Chronicles of Narnia!

Originally portrayed by Tilda Swinton, I spent a few years drooling over this bad-ass costume. I started in 2011 by making a base dress out of linen and started chain-mailing the skirt. After the first year, I realized it wouldn't get done in time for Dragon*Con, so it went on the back-burner, picking it up again in the winters because it meant I didn't have to leave my easy chair, quilt or cat. (For an ice queen, I sure hate being cold in winter). I picked this up again seriously in 2014/15 as there was a light at the end of the tunnel, and I continued making everything else.

I added a stiff petticoat to help support the fullness of the skirt. Everything was lengthened because Tilda is 5'10" and I'm only 5'00, so I wore platform boots with mine. The bodice was patterned and made by me from lambskin-covered canvas which I stained to get the color I wanted. The lion mane shawl was sewn wefts of mohair and goathair on a net base, which I colored and dyed in places. The wig is made from scratch (my first!). I made all the dreadlocks and hand-ventilated all the hair on the temples. The crown I made from craft foam and worbla, and later smoothed with apoxie-sculpt and gold leafed. The crown is actually two pieces that fit together. The wand is a Master Replicas (now defunct company)

I debuted this baby at Dragon Con 2015 in the Friday Night costume contest and was awarded (strangely enough) Best Makeup. The big shocker though was that I somehow managed to win Audience Favorite! I later also won the Social Media favorite award!

This costume was worn again to the Archon Masquerade in St. Louis, and I was awarded Best in Master Class! And then a funny thing happened... this year the Overflow Room (those who can't get in the Masquerade hall see it via live feed in another room) got to vote for Audience Favorite, which I was awarded!

I never, ever, ever win anything by popular vote which completely blows me away. And to think, I was worried no one would recognize this costume...


This photo was taken by Bryan Humphrey at DragonCon 2015!


***PLEASE NOTE: My work is not 'cosplay', it is costuming. Costuming is the art of creating costumes and designing a character look. 'Cosplay' is the activity of role playing while in costume, which not an activity I participate in, and is often confused for costuming.. Please only refer to my work as Costuming. Thank you for your understanding.***

Reply

great costumes... Have you ever submitted your designs to a movie production?
Reply

Holly Mother of God... You are such a master of your craft... Congratulations.
Reply

The finished costume looks incredible. I'm really impressed with the amount of work on all parts of the costume: the wig, the chain mail and so on.
Reply

Did you use metal or a substitute material for the chain mail?
Reply

I used aluminum rings for the chainmail, it weighs 7lbs, 2oz

Reply

How is maneuvering with that much weight around your legs? Does it slow you down much?
Reply

Yeah, between the skirt and the platform boots, I can't move too fast! It spins nicely, though.
Reply

You should get a chariot to help move around. Weight and mobility are factors that I'm keeping in mind because I'm going to start (pending some welding classes) a mando armor set made of steel.
Reply

You really did very well with this costume.
Reply

Thank you!

Reply

You're welcome.
Who is your favorite character? Will you do Susan or Lucy in their queenly raiment?
Reply

I am rather fond of Lucy, though I like Susan's outfits more. I have a few of hers I'd like to do if I ever find the time

Reply

I like Lucy too. I do like Susan's outfits but they fitted her being the elder more, girly girl. However, that doesn't mean that Lucy, as queen, did not have some lovely outfits herself. That gives you an opportunity to be creative.
Reply

I am so impressed by this costume. I would love to see it in motion.
Reply

Thanks

I have nothing close up, but here's a video from the Archon masquerade. It's very swishy and fun to walk in!
www.youtube.com/watch?v=JeFWjv…
Reply