Age: Old enough to know better
Location: Somewhere
Likes: reading, writing, anime, manga, crime drama, supernatural drama, Spongebob, plushies, dragons, cats, penguins, birds, the night, the moon, the stars, the ocean, Asain fiction, symphonic metal, Nightwish, gothic metal, metal.
Dislikes: Lots of things that I don't feel like listing.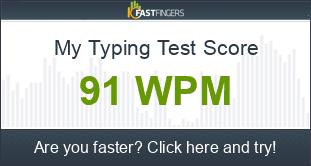 Visit the Typing Test and try!

Which Hogwarts house will you be sorted into?
What Naruto Girl Are You?
Hosted By theOtaku.com:
Anime
Current Residence: Beyond Reality
Favourite genre of music: Symphonic Metal
Favourite style of art: manga
MP3 player of choice: ipod
Favourite cartoon character: I have lots
Personal Quote: Stab you with a pancake!
Favourite Visual Artist
Ciruelo, Ruth Thompson, Masashi Kishimoto, Matsuri Hino
Favourite Movies
LOTR, POTC, Miyazaki films, and others
Favourite TV Shows
Law and Order: SVU, NCIS, Bones, CSI, House, Sword Art Online, Hell Girl, Mushi-Shi, Ghost Hound, Ghost Hunter, Shonen Onmyouji, Courage the Cowardly Dog, Avatar: The Last Airbender, The Big Bang Theory, Iron Chef America, and many others
Favourite Bands / Musical Artists
Nightwish, Epica, Within Temptation, Evanescence, Pythia, Xandria, Kamijo, Tarja, Liv, Moon, Wagakki Band, Versailles, ReVamp, After Forever, and others
Favourite Books
LOTR, DragonCrown War Cycle, Temeraire series, Dragonriders of Pern, The Night Angel Trilogy, Lightbringer series and many many more
Favourite Writers
JRR Tolkien, Otsuichi, J.K. Rowling, Brent Weeks, Naomi Novik, Anne McCaffery, Patricia Briggs, Michael A.Stockpole, Karen Chance, Yasmine Galenorn, and many others
Favourite Games
Assassin's Creed Unity, Horizon Zero Dawn, The Legend of Zelda: Ocarina of Time, Skyrim, Pokemon, Naruto games for PSP/PS3, Diablo II, Diablo III, Assassin's Creed series, Gravity Rush and others
Favourite Gaming Platform
PSP/DS/3DS/PSVita/PS3/PS4
Tools of the Trade
keyboard, pencil, paper
Other Interests
Mythologoy, Occult, History, biology, language, and lots of other weird shit.