Icon by
AnjuDere

Sunlight Warrior Yammikins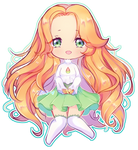 ♡ Art statuses ♡
Commissions: Closed
Art Trades: Feel free to ask!
Requests: I dont draw for free ♥
Collabs: If i can do the coloring maybe!
---
Greetings! My names Vel!
I'm an artist who draws for fun that likes knights, cheebs, dark souls characters and the color pink!!

I'm still relatively new to art and lack skills in certain places! BUT i'm confident in what i can do!
I also REALLY like females, so they're what i draw primarily!

Im also really open to befriending people but i barely talk to anyone :>

---
♡ Friendos who're on this site ♡





---
Please dont steal, trace, or repost ANY of my artwork without permission!
The only exception for reposting is sharing my fanart on other sites with proper credit!
If i dont reply to you when it comes to something important, please @ me! Deviantart frequently doesnt notify me of mentions or replies!