A bit of fun with imported images this time. All created within
UltraFractal
with some minor post-production editing: tonal balance, sharpening, addition of sig & watermark. 48 layers in total.

Resources used for this image are all my own except for the
Clock
photograph which is a
stock image
by


PS. This is not about Spring (the season)... this is a represention of a mechanical clock with coiled (watch) springs, cogs etc. The title is a play on words.


Other time related fractals: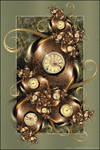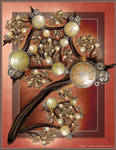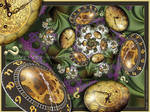 This fractal was voted
Ispirare
's deviation of the week, July 30th 2012. Thanks to all who voted!!
Link


This fractal was voted
3Every30days
deviation of the week, August 19th 2012. Thanks to everyone who voted!
Link








COPYRIGHT NOTICE
My gallery and images contained in it are Copyright ©2007-2019 Velvet--Glove. All rights reserved. None of the images contained in my deviantART gallery may be reproduced, copied, edited, published, transmitted, borrowed, duplicated, printed, downloaded, or uploaded in any way (that includes blogs etc.) without my express written permission. My images do not belong to the public domain.