PLEASE CONTACT ME IF YOU NEED A PRINT OF THIS IMAGE
Deviant Art is broken - the print option for this image has been trashed and I cannot correct it. DA seem unable to correct it either.

For a serious buyer I will find an alternative way to make this available as a print.








Ultra Fractal 5.02. Full size view recommended, for the details.
This was an experiment to see if/how I could adapt the jewel making technique of N M Smith... an artist who is no longer on Deviant Art
The gold setting is a merge of three trap shapes. This image uses image import and is constructed wholly within Ultra Fractal (except for the addition of a sig afterwards); 14 layers in all.
Not bad for a first attempt, I think.


Later images in this jewel series that you might enjoy can be found in my Fractal Jewels gallery here:
Link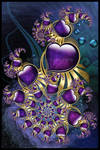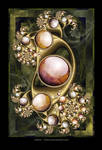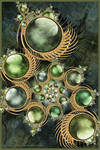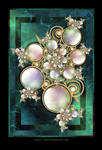 We all need more time so to anyone who may 'fave and run' on this piece or any other: thank you in advance








COPYRIGHT NOTICE
My gallery and images contained in it are Copyright ©2007-2019 Velvet--Glove. All rights reserved. None of the images contained in my deviantART gallery may be reproduced, copied, edited, published, transmitted, borrowed, duplicated, printed, downloaded, or uploaded in any way (that includes blogs etc.) without my express written permission. My images do not belong to the public domain.
Image size
600x900px 465.54 KB