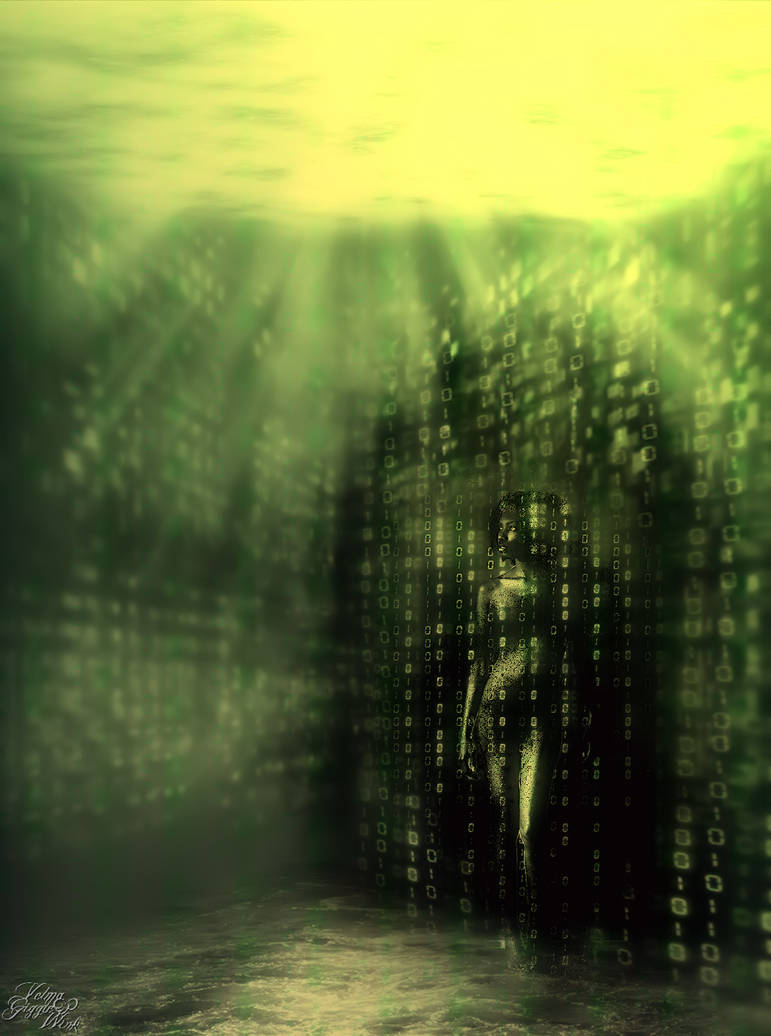 Given the title of "Under the Sea" and the the use of the binary code, my first thought was Under the sea of information. Given the size of the internet these days sometimes you do feel like you are drowning when trying to find something online. And yet it is also something we cannot live without.

The sea of information runs deep, and swift are it's currents. I think this piece speaks very well how we all feel about it at times. It is a social commentary, a statement, and a wonderful piece of visual art. The color scheme matches both the tech overtone as well as representing what we have come to accept life under water looks like.

I feel there is both tremendous commercial and gallery application to this wonderful work of art.
The Artist thought this was FAIR
2 out of 2 deviants thought this was fair.
One will first notice the positioning of the subject in a "cloud" of information - to me, this symbolizes out being immersed in our so-called "sea" of information. You'll also notice that the subject looks rather confused, also symbolism. We are so overwhelmed by the aforementioned "sea" of information in which we reside - we have so many passwords, emails, contacts, tweets, deviations and what have you to keep up with, so many more perceived social obligations than we did (even last year) that we often have a hard time finding our way, as is the pictured woman.

All of this superimposed over the sea, also representing our lost-ness, or "drowning" if you will, in the almost echo-chamber of information we create for ourself and others.

This is a good work, with clear intentions and value. The compositing is excellent, and is not at all too obvious. A decent amount of random skew and blur has also been applied to the various lines in the photo, so as to reduce visual fatigue, and draw attention to the significant portions of the photo.

All-in-all, this is a very high quality composition, and does an excellent job of representing both abstract and surreal digital art.
The Artist thought this was FAIR
1 out of 1 deviants thought this was fair.