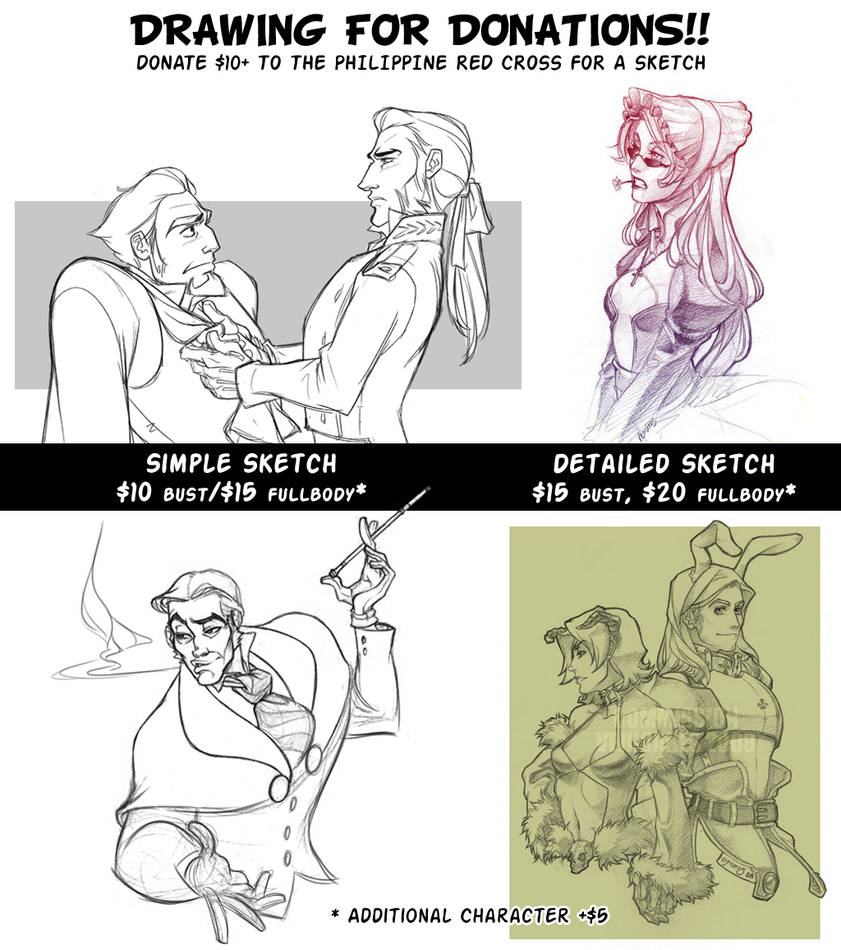 Here's the deal guys—I'd like to help out with emergency aid to the Philippines after the most devastating typhoon on record, Haiyan (Yolanda). In hopes of encouraging donations to the rescue and relief teams, I will be reopening commissions through the end of the month.
Donate $10 (425 PhP) or more to the Philippine Red Cross and you can commission me for a drawing of your choice. I'll do fanart or originals with good reference provided. And I'm offering sketches because that's what I have time for now, but if you'd like a little something more (clean inks, some color, etc) to donate a little more, let me know and we can work something out.
HOW IT WORKS:
Email me at vejiicakes@gmail.com to reserve a slot and confirm your request.
Donate the agreed upon amount to the Philippine Red Cross' Supertyphoon Yolanda campaign (takes card or Paypal) [x]
Send me a copy of your Paypal donation receipt or confirmation email for your request to be approved.
We get this party started! You'll receive a hi-res scan and the rights to the image when I'm done (given my schedule, 1-3 weeks).
I'm recommending the PhRC because they're deploying rescue teams to areas affected by the storm, are able to navigate the local context and may be able to respond quicker than outside organizations. BUT if you'd rather donate to a different org, I'll accept others too! There's lots of good relief efforts, and more importantly people, direly in need of help. And of course, even if you don't want a drawing, please consider donating if you can.
Please spread the word, and thank you!
EDIT 12/1/13: CLOSED! All slots are full, waitlist closed off. THANK YOU to everyone for donating, your generosity is going to an important cause, and you'll be helping out people in need. The first wave of people who've been confirmed on their commissions should start seeing their drawings starting this coming week; the rest of you, I'll keep in touch about progress via email. Thank you again!