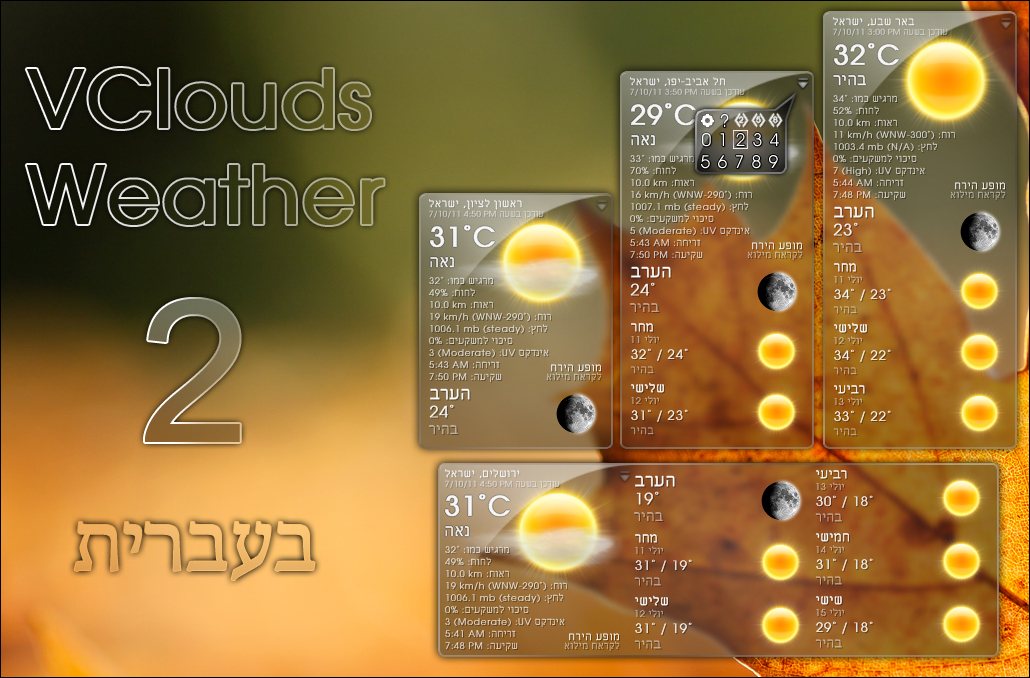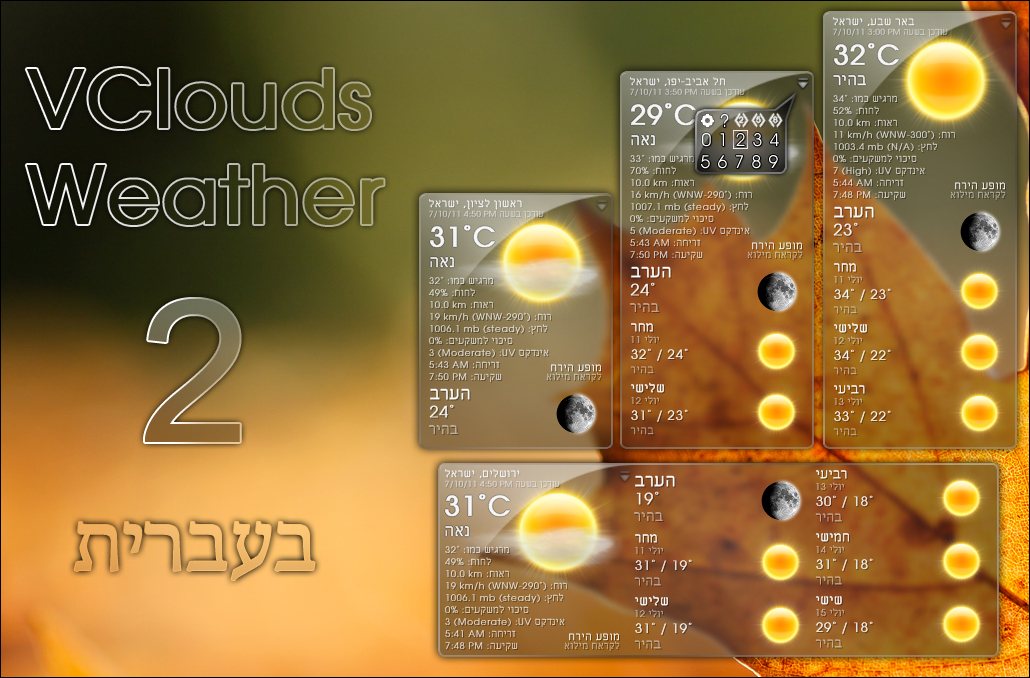 a Multi language updated version can be found here - [link]*** הגירסה הזאת מיושנת ולא תעודכן יותר
גירסה מעודכנת הכוללת את השפה העברית אפשר למצוא כאן: [link]
VClouds Weather 2 in Hebrew בעברית
I translated this skin for my family. Don't know if there are many Israelis using Rainmeter but I thought Id submit it anyway...
- לחץ על הכפתור בפינה הימנית העליונה כדי לפתוח את הפאנל
- סקין זה דורש ריינמטר בגירסה 1.3 ומעלה
[link]
Updates:
- 13.4.2011 - Added Aero Glass (Blur) support (available only for Windows 7 and Vista with Rainmeter v2.1b or higher) also added background transparency option.
- 20.6.2011 - Updated some of the graphics to match my system skin.
- 10.7.2011 - Integrated new images of the moon phases into the current weather and tonight forecast images and removed the old small ones + minor changes.
- 18.7.2011 - Added a star field image to the clear night condition.
- 1.8.2011 - Added an option to change the background color.
German version -
[link]
*** If you like this skin try VClouds System -
[link]

an impressive effort in either language. this is a beautiful skin. normally i keep my desktop in english but i use this hebrew version simply because it exists.
Reply

nice i am an israeli but i still prefer all of my desktop to be in English. But this is awesome!
Reply

VClouds i have mine translated in german but only thing i not get translated is the today/tonight meter so the first one

can you please help me how to change that

thanks
Reply

I absolutely appreciate this, I am a Hebrew speaker and an Israeli. I use Rainmeter in English though, but still, appreciated, great job.
Reply