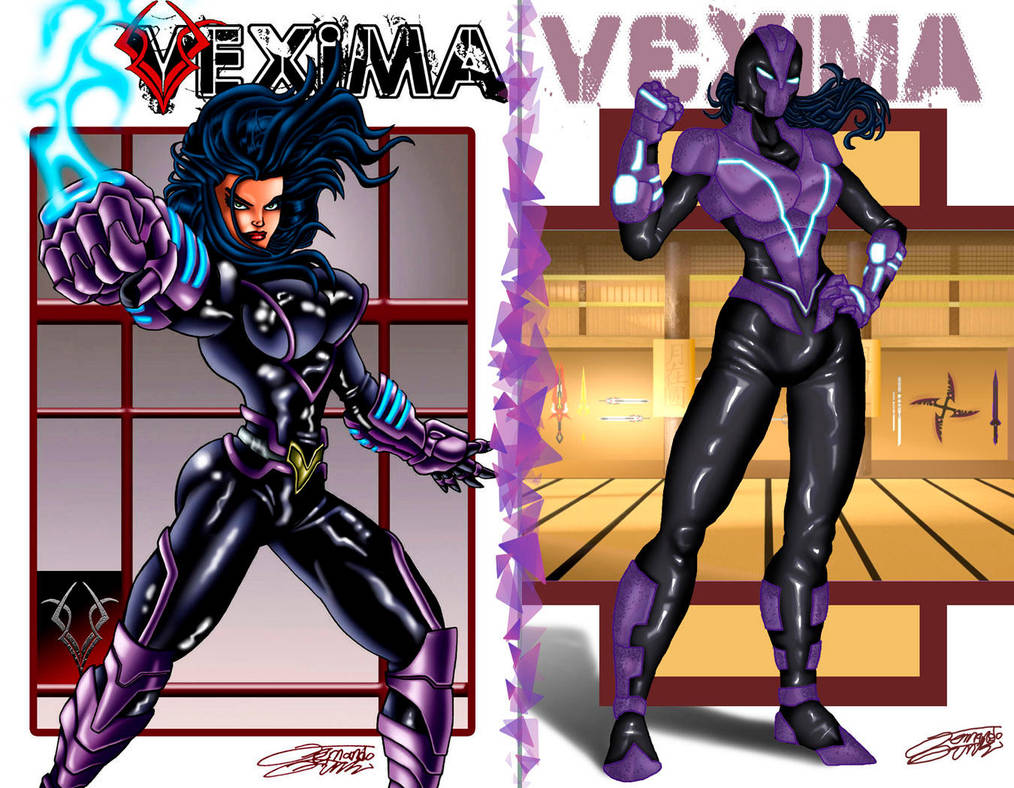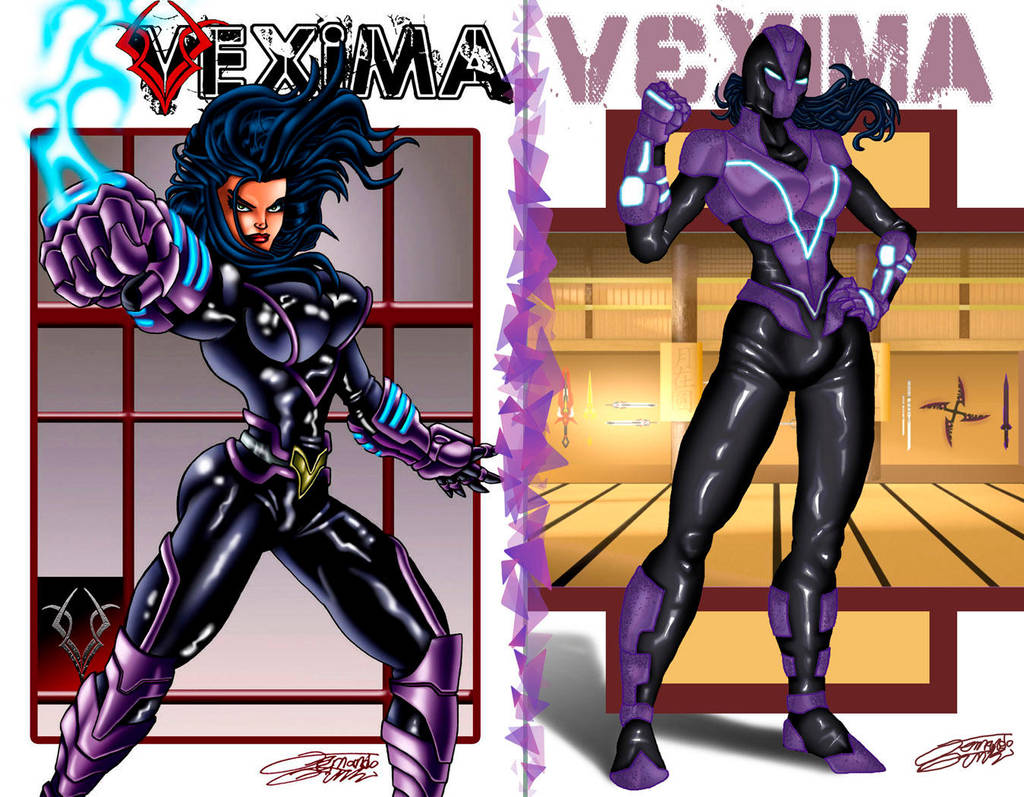 Watch
This is another redesign of one of my characters from my VEXIMA project. She's called VELVET. The one on the left is my old version and the one on the right the new one.
I decided to keep the leathery texture on her black areas (instead of a more tech-like suit like her brother's) and also give her a full mask that completely hides her hair. (the old version also had a mask but didn't hid her hair)

So what you think, is there improvement on the new version?
I'll really appreciate your feedback on these redesigns I'm working on, Thanks so much in advance!


EDIT: I added some hair on the new design in response to suggestions of various people who liked that feature from the old design. Hope ya like!
EDIT 2: Reworked the background and added some elements to make for a better comparison to the old one! Hope ya like!


Reply

Isthis the one you mentioned earlier about being the other's sister or something?
Reply

Yep, she's Vortex's (my previous OC) sister. That's why I'm trying to keep their suits similar!

Reply

One thing. If you want her to have a helmet, you may need to give her a hair slot. You said she was a spy in a lower comment, and a helmet that guards all angles makes more sense for practical purposes, BUT it doesn't work too well concerning design. Velvet's got a lot of hair. A LOT. that's not going to cooperate with a tight fitting helmet, especially if it closes automatically like Iron Man. In a real world instance, while the helmet would close fine, her hair would get stuck in the cracks, and it would look ridiculous, though it'd make for a funny scene. For something like that, she'll need a shorter haircut, or at least wear it up so it won't interfere with the helmet's use.

Another alternative, you could have her wear her hair in a ponytail, as to still give her a hair slot, but to also shrink the vulnerable space significantly.
Reply

I'm a few months late lol, but It looks great. Nice job man.
Reply

LoL! Thanks man, much appreciated! I should have some more of my OC's making their way to my gallery soon!

Reply

Yup, you're totally right and even tho the design (full helmet) has it's practical purposes, "looks" will have the upper hand on this one since more people also suggested that I should add the hair in some way since is something that everybody seemed to like about the old design! It makes me glad that people here and in other social media are giving their opinion on my OCs, it helps me a lot to design them as best as possible!
Thanks for your comment, I'll be sure to let you know when I update her design!

Reply

hmm.. i think she'd probably look better without the helmet on. the rest of the body though i think your design has improved.
Reply

Yeah, helmet/mask is something that she'll have on and off depending the situation, on my previous design she also wore a mask but the hair was visible (like on the illust I did vs your OC, remember?) but now I cover it completely not only to make her looks similar to her brother's but also, I thought it'll be inconvenient to leave parts of the body uncovered since they're like spies/mercs and wouldn't be good if one of they're enemies got a sample of hair for DNA testing and discovered things like their identities or abilities, so they're completely covered now!

hehe
I really appreciate your feedback my friend! Thanks so much!

Reply

true. as hair gets stuck in the oddest of places without you noticing. though in comics such practical things aren't oft thought of.

and no probs!

Reply

Yep you're right, but I am now considering adding some loose hair to the new design since other people also suggested it. Turns out that's one of the things they liked about the old design and is missing on the new one so I'll have to incorporated in some way! That's what I love about feedback and I'm always open to suggestions in order to make my OCs more appealing!
Thanks again my friend!

Reply