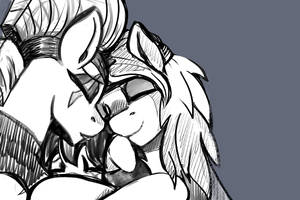 Inks or Pencils
Access to INKED or PENCILLED PAGES - a few days before final page release!
---

Description
"I will give you a second chance to life again."
Warning : This story takes place 100 years after Rarity dead. This story base on season 4. So anything that happened in season 5 will have nothing to do with this story.
Warning : This story's an alternate universe and is really crazy at times.
Warning : a lot of 4th wall breaking and referencing. Sharing universe with "To Love God - To Love Mortal" but in the future and more crazy.
English Editor : dracoblair.deviantart.com/
--------------------------------------
#First : vavacung.deviantart.com/art/Cr…
#Previous : vavacung.deviantart.com/art/Cr…
#Next : vavacung.deviantart.com/art/Cr…
Image size
800x682px 341.65 KB