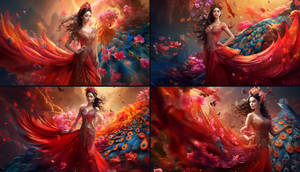 Best Ai Wallpapers Art Collections
Peacock beautiful Ai Art Collections, in the style of fanciful costume design, realistic fantasy artwork, fine art of body and art, this is my favorite style, the whole series exceeds 1000+ images, I will continue to post here, and create and Update this collection, hope you like it 🔒👀💖
---

Description
Sirin is a mythological creature of Russian legends, with the head and chest of a beautiful woman and the body of a bird. According to myth, the Sirins lived "in Indian lands" near Eden or around the Euphrates River.

These half-women half-birds are directly based on the Greek myths and later folklore about sirens. They were usually portrayed wearing a crown or with a nimbus. Sirins sang beautiful songs to the saints, foretelling future joys. For mortals, however, the birds were dangerous. Men who heard them would forget everything on earth, follow them, and ultimately die. People would attempt to save themselves from Sirins by shooting cannons, ringing bells and making other loud noises to scare the bird off. Later (17-18th century), the image of Sirins changed and they started to symbolize world harmony (as they live near paradise). People in those times believed only really happy people could hear a Sirin, while only very few could see one because she is as fast and difficult to catch as human happiness. She symbolizes eternal joy and heavenly happiness.

Сирин, в славянской мифологии одна из райских птиц, даже самое ее название созвучно с названием рая: Ирий. Однако это мифическое создание отнюдь не светлые Алконост и Гамаюн.

Сирин - темная птица, темная сила, посланница властелина подземного мира. От головы до пояса Сирин - женщина несравненной красоты, от пояса же - птица.

Кто послушает ее голос, забывает обо всем на свете, но скоро обрекается на беды и несчастья, а то и умирает, причем нет сил, чтобы заставить его не слушать голос Сирин. А голос этот - истинное блаженство!


Stock:

















Thank you very much!
Image size
1200x848px 1.04 MB