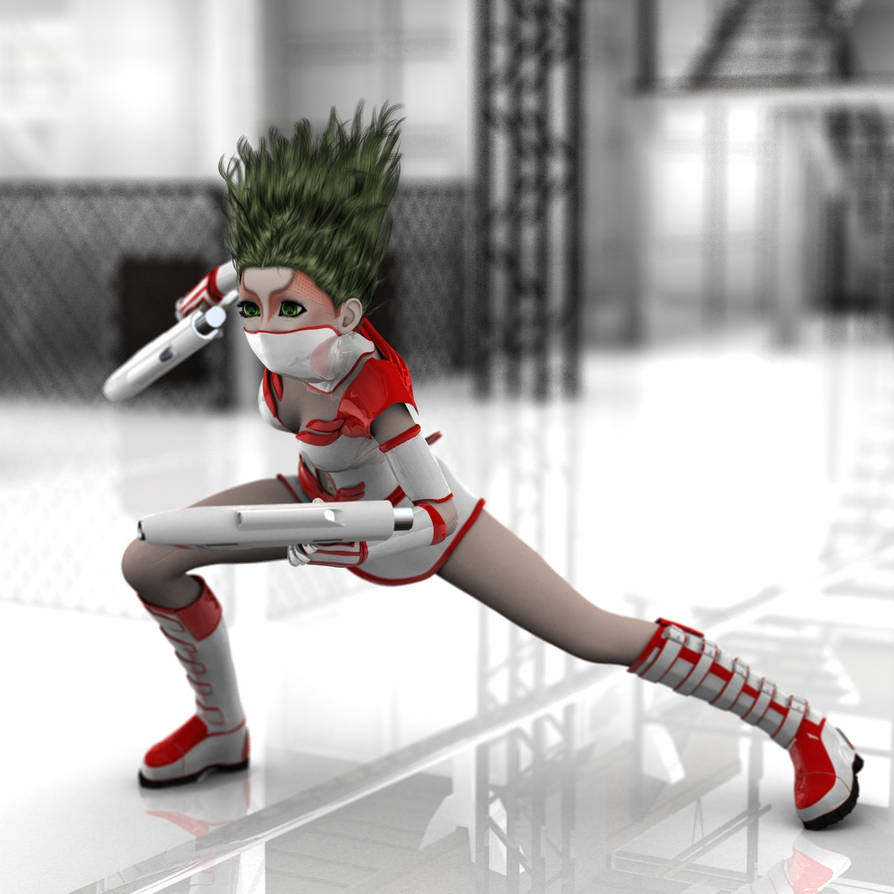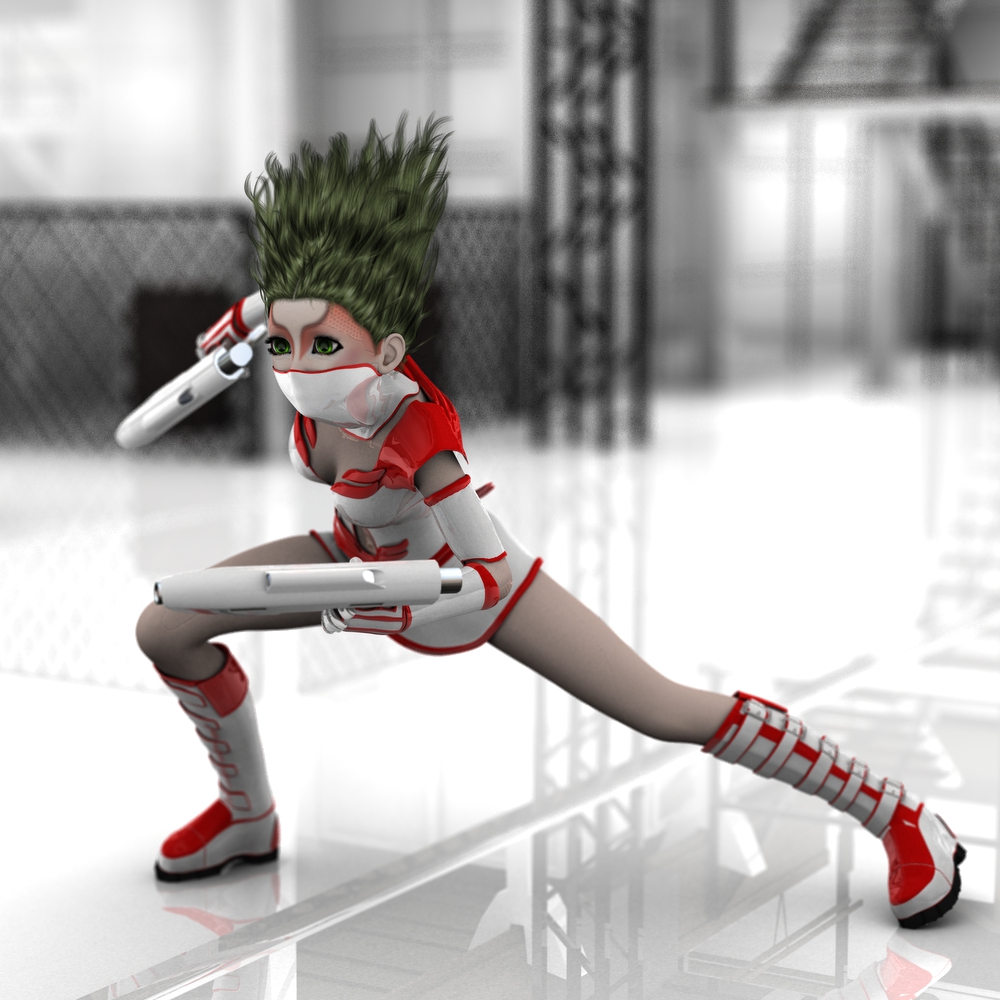 Watch
The first of 2 angles. I couldn't decide which I liked more, so I'm uploading them both.
Daz Studio 4.6
Render done for the new Black Dragon outfit by Razor42 @ Daz
www.daz3d.com/black-dragon-clo…
Asobi - DemonicaEvilus/Silver
Robogeisha mats - MAB/WillDupre
Esidor Hair + Colors - 3Dream/Mairy/PG-Graphics
Sci fi pistols - Valandar
Abandoned Warehouse - inLite Studios
Entire scene is shaded with black/white/red latex from Fisty's Hardcore Utility Shaders
Pose by Structure @ Rendo (He's got a TON of good freebies
www.renderosity.com/mod/freest…
)
Nothing but a default UE2 on max quality lighting this.

I love this render, the DOF, reflections and color palette work really well. Looks like that outfit has a ton of material zones, just added it to my wishlist. I like both angles but I think I prefer this one because it is more dynamic. Although the straight on shot works great for your avatar.
Reply
Thanks! I had been thinking of a "clean room" style of render for a while, and when Razor's outfit finally came out, I knew this would be the one (I also don't think I had done a ninja-style image yet).
Reply

The "clean room" style is nice, reminds me a little of Mirror's Edge. Thanks for the link.
Reply
It does. A game I still have yet to play. I own way more than I play. lol
Reply

Same here, too many Steam sales & indie bundles. I even have an extra code for Mirrors Edge. It's kind of similar with my DAZ content but on the other hand I feel the huge selection helps with my creative process.
Reply
Yea, the game sales are a killer. Sometimes just the sales is like playing a game in itself.
With 3D stuff I find myself screaming on the inside, "want allll the things!". I'm kind of at a state where I regret investing so heavily in Genesis. I kind of wish I'd have went V4 > Genesis only for beasts/demons > G2F. I'm still using V4 (in fact I downgraded from Genesis to V4 + Perfect V4 as I liked her stuff better).
Reply

Yeah, at this point I've been trying to only buy things that I really want and only when they are heavily discounted. Unless it's something I absolutely need.
I love Genesis 1 for the versatility, it's essential to my workflow and it's what got me into using DAZ and premade content. I can use most older generation content with it, although sometimes it needs a bit of work to look good.
I appreciate the improvements of Genesis 2 but they are not near enough to be worth it for me to invest in a new figure and to lose versatility. I see advantages to each figure and really think it depends on the artist's process and also what they already have invested in.
Reply
During Steam sales I keep repeating to myself that, "it'll be on sale again this year", and believe me, I think I easily have at least a year's worth, if not more, of games in my backlog (between Steam, consoles, disk, etc).
I loved the versatility of Genesis, which is something I really don't understand with the G2F/G2M. They're cut from the same base mesh anyways, so why not just give us that base mesh like they did with G1 and call it a day?
With me regressing back to Generation 4, it was due to the amount of items available for them versus for Genesis that would work natively in Poser since I was moving away from Studio. Mind you, I still love Studio, it has it's upsides versus Poser (the dof on the camera is a LOT easier to work with in Studio from a visual perspective), but I fell in love with Poser's SSS the more I saw it, and achieving that same look was just getting too difficult and time consuming with Studio.
I haven't yet invested anything in G2F unless it was a V4/G1 item that came with the G2F version bundled.
Reply
(1 Reply)

Nice render

Reply

Just love the depth of field blurry background look. Great job.

(and for some reason, I kept typing hop instead of job. *LOL*)
Reply
I'm a DoF nerd. I fell in love with it when I finally bought my DSLR camera and got into macros. I think the noise in the back kind of adds 'something', just not sure what, yet. lol
Reply