Who ever catches or comes the closest will be  featured in a journal. You must send it to me in a note.
Next weekend

and I will be at Galveston Convention Center attending Onicon as guests. We will be participating in a few panels so if you will be at the con be sure to attend to have all your cosplay questions answered. We will be wearing our Shepard cosplays on Saturday and during the course of the weekend I will be wielding the greatest sword of all time, Excalibur , so get ready for another blonde with a sword cosplay from me.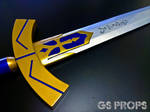 Sad I am not at Yaoi-con.......

everyone else attending I hope you are having an amazing time!!! Next year be ready for me!!!!
Now back to cosplay making.....
In case I do not post up another journal till after all the upcoming building madness be sure to follow us at
GS Props
.
P.S. We will be fully opening up commissions soon and Turi has a few slots open, be sure to order whatever it is you wanted before they filled up, those SAO swords are in high demand. (Dark Repulsor -not in the picture- will be ready after Onicon)