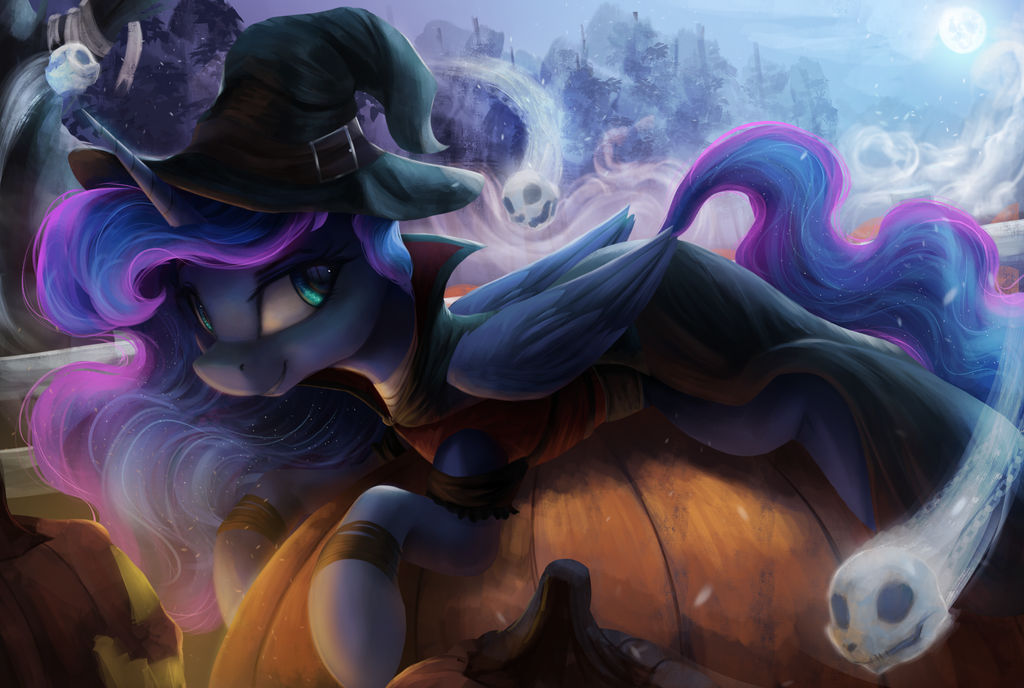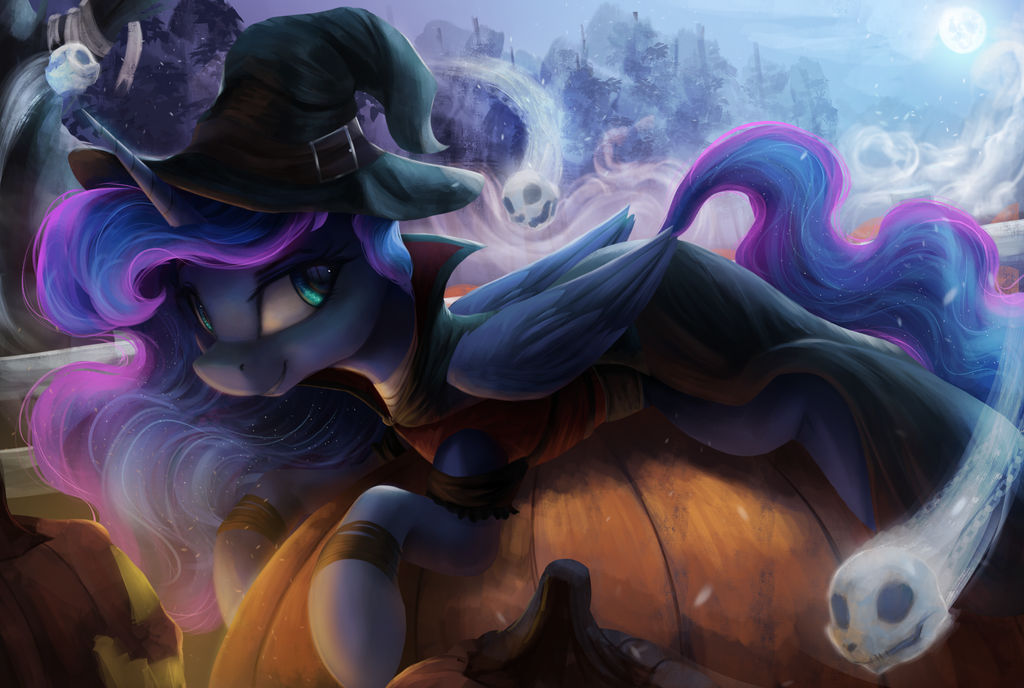 Watch
this picture is haunted and you are now cursed to say "everygriff" instead of "everygriffon", just like ponies do.
I like this one. You fill the space nicely and you have something of interest in each of the corners. Luna is done very well with good attention to detail and nice shading, smooth were it should be, not were it shouldn't be.
The lighting is a bit unnatural but I understand it's for clarity and it's not done to the point of being detracting. I think a little darker on the belly would be a little more realistic.
The expression is great being vague enough to convey several meanings. The eyes are beautifully done.
Things that could be done a little better would be adding a little more detail on the ground. The trees in the distance look like they've been topped, the moon is a bit too close to the edge for my taste, the skulls seem a bit small compared to Luna. Maybe make them 50% to twice as big? Wouldn't take much focus away from the center piece of Luna.
That pumpkin needs a face. It would help to explain the lighting that's coming form the foreground and just add something else fun.

Overall I like it, and while the ground is FAR from "phoned in" it think it needs a little more work to bring it up to the quality of your focus.
Love this, I'm working hard to get as good as you and this is great inspiration for me.
The Artist thought this was FAIR
38 out of 40 deviants thought this was fair.
Not bad! A few issues with the anatomy that makes it look weird and same with the shading. It's definitely a beautiful piece! good job.

For the shading, it feels like the forms don't read well, definitely because you shaded not thinking about it in three dimensions. For instance, the pumpkin emitting light is closer to the foreground ya? so the light would not fall to the left side of everything. it's a minor thing, and the piece still looks beautiful to me so good job! anyways I suggest you practice proper shading, it can help you convey the forms better! As currently, it doesn't feel three dimensional.
The Artist thought this was FAIR
29 out of 50 deviants thought this was fair.