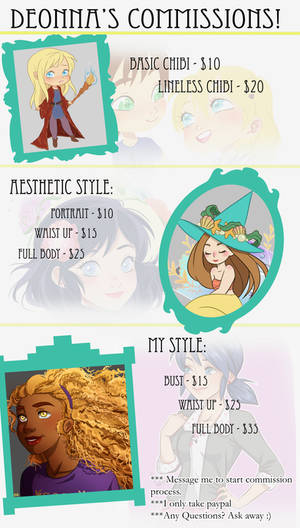 @--COMMISSIONS [OPEN]--@
PLEASE READ MY RULES THOROUGHLY BEFORE YOU ORDER:


What I can draw:
-OCs
-fanart
-fantasy related things
Things I won't draw:
-no porn, fetishes
-sexual/controversial content
-overly sexual characters

-yaoi/yuri
-highly detailed backgrounds/mechs/armored characters- I simply don't have the time and I don't feel confident in my ability to do such things.

-I will also be limiting commissions to ONE character ONLY. This is so I can get through everyone's commissions

- No Hamilton-related things (I'm just really over the hype and I dislike it)
How to pay:
-I'll only accept PayPal.
-Payments must be made the day you order (I will not start your commission until I am paid)
-Be sure to include your dA screen name in the payment note when you send through PayPal--this'll help me find you

-the currency I accept is USD

-I WILL SEND YOU AN INVOICE, so please message me your email
Rules/extra:
-Make sure you order by sending me a message (Not a comment on my deviations or my journal entry)
-Send me all of your written and VISUAL character details when you order; character traits, expressions as well as anything else you can think of to better assist me in making your picture perfect for you. I can't read your mind. And I don't have the time to ask a long set of questions. If you know what you want, you need to tell me. I won't go back and redo your picture.
-This is not to discourage you from letting me have artistic license with your character. If you don't like that, be thorough in your description. If you don't really care, I can take some references and a few tips from you and run with a theme and design.
-if you're having trouble with a character/apparel-- I will gladly help! I LOVE making up outfits

I'm more than willing to work with you!
-Don't post my commission work in your gallery. If you want to show it off, showcase it in a journal instead with a link to my gallery

If you're still confused about anything else, feel free to message me
~Deonna





COMMISSION WAIT LIST:

1) --
2) --
3) --
4) --
5) --
6) --
7) --
8) --