....I TOTALLY blanked on posting this and just had it sitting in my stash! Whoopsie-daisies...
The divine and infernal commission pantheon of

continues to expand its roster with the addition of Mammon:
mater
tenebris
of the 3 Infernal Sisters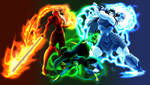 Mammon is a dark, poisonous cloud of tar and toxicity, shadows and fire, smoke and smog, giving her the invigorating aroma of a sulfuric brimstone processing facility in some industrial sector of Hell. Her skin is a slick with corrosive muck, her blood corrupts and defiles whatever it touches, and her black wings writhe with the miasmic fumes of death. Mammon isn't terribly subtle about her nature, is what I'm saying, but she is a capital "D" Demon, and they are not known for their sense of understatement.
Wish i had finished this ahead of Halloween....oh well, dark evil knows no sense of time or season, hehe

Image details
Image size
3229x4000px 4.99 MB