Hey all!
Quick update on the state of things! First, I'm sure everyone who's payed attention to my recent submissions can see that my head (and my art) is pretty stuck in Guild Wars 2. I've been playing for a couple years now and am still obsessed with it, and it sparked the creative drive that had slowed down for a few years. If you want to find me in game, I'm Vanaliel.3864
Along with those lines, one of my paintings (technically a speed paint I had no intention to submit to anything) is in a contest to become GW2 official merchandise here:
community.welovefine.com/m/fan…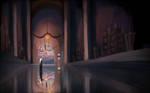 If you have a few minutes, I would SUPER appreciate any votes for it!

Lastly, also moved a lot of my activity to tumblr. Please follow me there at Vanaliel.Tumblr.com! I generally keep my dash to GW2, but I'd love to see your tumblrs too!
As always, I love all of my active followers, and hope to pick up the art pace again here soon!

-Vani!